Apple Unveils the iPhone 8, 8 Plus, and X with Next-Gen Photo Features
Apple has just officially announced the iPhone 8, iPhone 8 Plus, and iPhone X, a new generation of iPhones that boast, among other features, upgraded cameras for improving the photos captured by the masses. There's also a brand new Portrait Lighting technology.

iPhone 8 and 8 Plus
The new glass-backed iPhone 8 and 8 Plus feature new 4.7-inch and 5.5-inch Retina HD displays, respectively. Inside the phones is a new A11 Bionic six-core CPU that's not only powerful for the phone's general speed and functions but also beneficial for photography as well. It allows for faster low-light autofocus, improved pixel processing, and hardware noise reduction.
There's a new 12-megapixel main camera module in both phones that has lower noise and a wider dynamic range. The dual camera system on the iPhone 8 features a f/1.8 main camera and a f/2.8 telephoto camera. Apple says the new imaging sensor is 83% more light efficient and uses less battery power as well, allowing you to shoot more photos and video on a charge.
Optical image stabilization will be present on not just the iPhone 8 Plus, but the iPhone 8 as well.
Portait Mode has been improved, resulting in sharper foregrounds and backgrounds that are blurred more naturally.
On the video front, Apple says the iPhone 8 line has the highest quality video capture ever offered in a smartphone. The phone analyzes 2 million tiles in the scene per second to predict image and movement. In addition to 4K 60fps, you'll also be able to shoot 1080p slow motion at 240fps — twice the frame rate as the iPhone 7.
The cameras are also specially calibrated for augmented reality technology, capturing low-light at 60fps with accurate motion tracking and a new gyroscope and accelerator.
Other iPhone 8 features include wireless charging, water and dust resistance, and dual-domain pixels for a wider viewing angle.
Portrait Lighting
What's very new in the new iPhones is a "Portrait Lighting" feature. While Portrait mode in the iPhone 7 helped simulate a shallow depth of field for nicer looking portraits, Portrait Lighting helps simulate professional lighting.
When framing a subject, you'll have a number of different lighting options to choose from for giving your portrait different looks — things like Contour Light, Natural Light, Studio Light, Stage Light, and Stage Light Mono.
These "aren't filters," Apple says. Instead, the phone is actually studying your subject's face and calculating the look based on light that's actually in the scene using machine learning.
iPhone X
Apple has also announced its new flagship camera, the iPhone X (the iPhone "ten"). This is the phone that's designed to "set the path for technology for the next decade", just as the original iPhone revolutionized how we used the phones in our pockets.
The phone features an edge-to-edge, 5.8-inch, 2436×1125-pixel Super Retina display, great for enjoying phones and videos. It's the highest pixel density (458ppi) ever introduced in an iPhone and is also the first OLED display used in an iPhone.
There's no Home button — the feature has been replaced by a "Swipe Up" and by a new Face ID system that powerfully recognizes your face regardless of things like hairdo, glasses, makeup, and more. The system is powered by a TrueDepth camera on the front of the phone that will bring new power to selfie-mode photography.
The rear camera system uses dual 12-megapixel cameras with larger and faster sensors. There's a new color filter and deeper pixels. The standard and telephoto cameras feature f/1.8 and f/2.4 apertures, respectively, with the f/2.4 being faster than the f/2.8 telephoto found in the iPhone 8.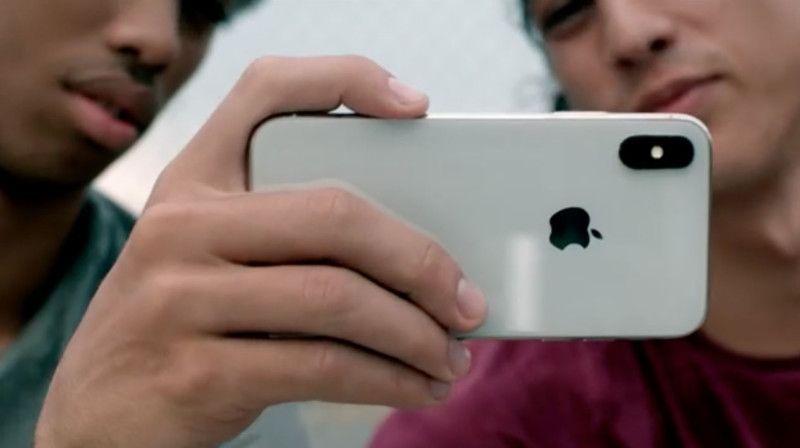 Both cameras feature optical image stabilization that enables better low-light zoom and improved video stabilization. In between the camera modules is a Quad-LED True Tone flash with 2x better uniformity of light.
The front-facing cameras can do both Portrait Mode and the new Portrait Lighting feature.
Here's a look at what the front and rear cameras now offer in terms of hardware:
Other features of the iPhone X include a glass front/back, surgical stainless steel around the sides, dust and water resistance, two flavors (space gray and silver), LTE Advanced, Bluetooth 5.0, and wireless charging (with a new AirPower pad).
Pricing
The iPhone 8 and iPhone X will join the iPhone SE, 6S, and 7 in Apple's smartphone lineup this season. The 8, 8 Plus, and X will have starting prices of $699, $799, and $999, respectively. The iPhone X will have 64GB in its base model and 256GB in its high-end one. Preorders begin on October 27th, and shipping will commence on November 3rd.