I Turned a Camper Into a Giant Camera and Portable Darkroom
Last year, I built a (very rudimentary) 16×20" ultra large format camera out of a bunch of plywood, a pane of glass and some cheap blackout material from the local fabric shop. I borrowed a 20" military aerial lens off a friend and took it on the road to Latvia in my campervan. The problem with it was that I only made one dark slide, and this wasn't exactly light tight!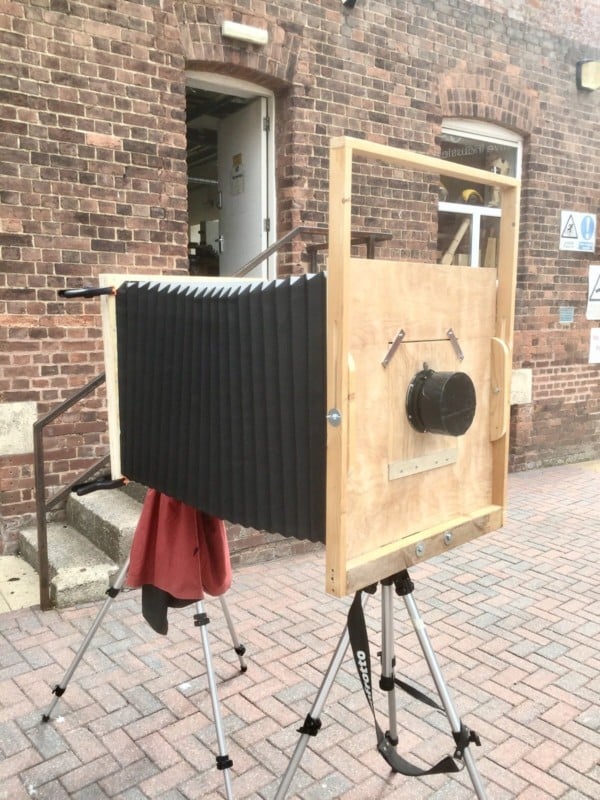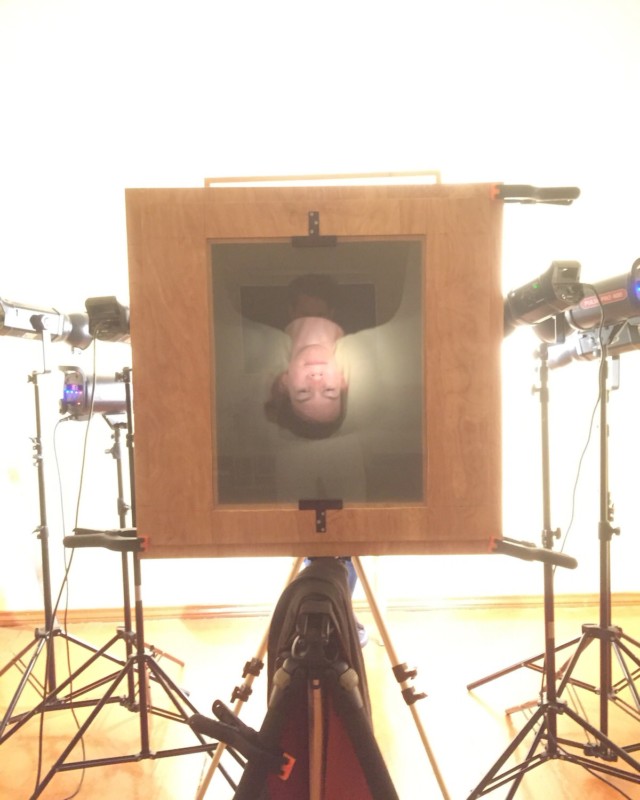 A variety of circumstances led me to set up a makeshift studio and darkroom in the basement of a castle somewhere in the Latvian countryside, which meant that I could load in the dark, fire flashes to expose and, as I was shooting paper negatives and direct positives, I could develop the print there and then.
The camera itself was rather awkward to use, however, so when I returned to England I decided it would be easier to build something bigger that I could climb inside and operate from within, so the Shed Cam was born. (Basically an 8×4-foot sterling board shed with a lens sticking out one end and a classroom white board inside to act as the viewing plate instead of a ground glass and film holder).
This worked a treat, I could shoot in the shed, put the paper in a light proof bag and take it to the darkroom at the other end of my studio. The only problem then was, I was stuck inside and confined to the studio (although the camera shed was on wheels, it wouldn't fit out the door even if I wanted to take it outside!).
So then came the Caravan Camera. This was to work in the same way as the shed but would have a darkroom inside it as well so I could take it on the road. I bought an old caravan off eBay for £150…
…gutted it…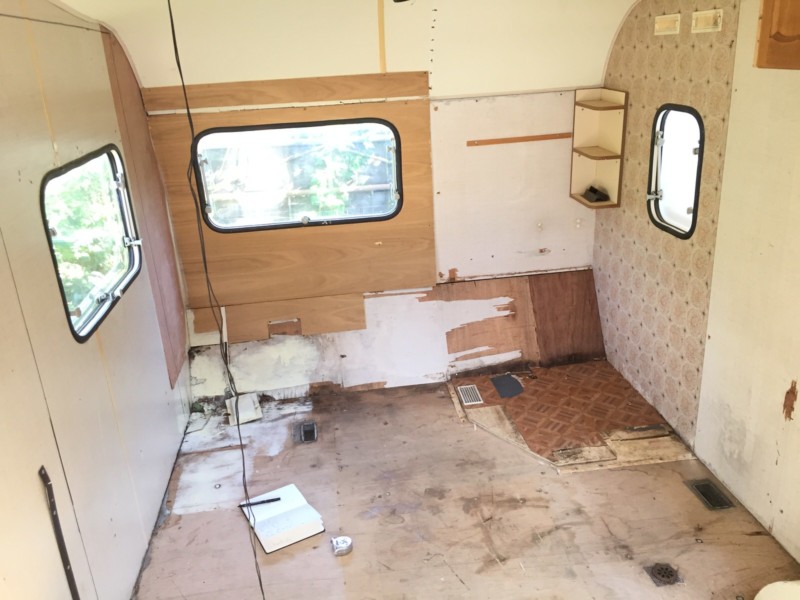 …blacked it out…
…had a friend Pat Cullum design a paint job for the outside (and received lots of invaluable advice from Ian Kasnoff)…
…built a mount for the lens and space for darkroom trays…
…moved the white board from the shed…
…and she was good to go!
I got talking with the director of a local pop up art space, The Boatshed, and the opportunity came up to park it outside for a week, make a load of portraits of people passing by and see if it would work!
During the week residency over 300 people experienced the Caravan Camera, initially stepping inside to see the world outside projected onto a screen (working as a camera obscura) and then posing outside for their portrait, then stepping back inside to see the image come to life in the developing trays.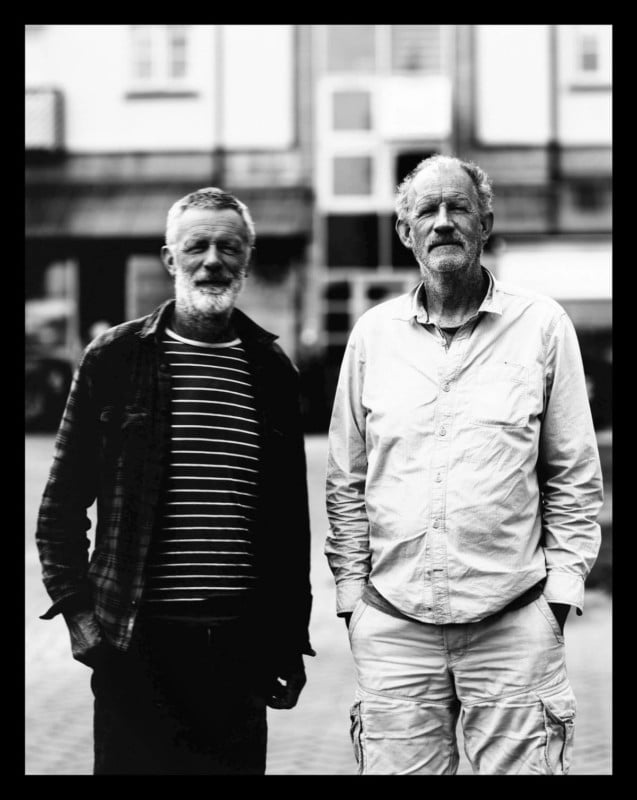 After the week of shooting, I contacted printed over 100 of the 16×20" paper negative portraits into positives and held an exhibition of the prints inside the Boatshed, the old Maritime Museum, a beautiful wooden beamed stone building on the Quay in Exeter, Devon. It was so rewarding to see so many people engaged in the process and excited by the results. It's not the quickest, easiest or most practical way of making an image, but in a world of smart phone cameras and instant uploads, it's nice to slow things down a little bit and create something physical!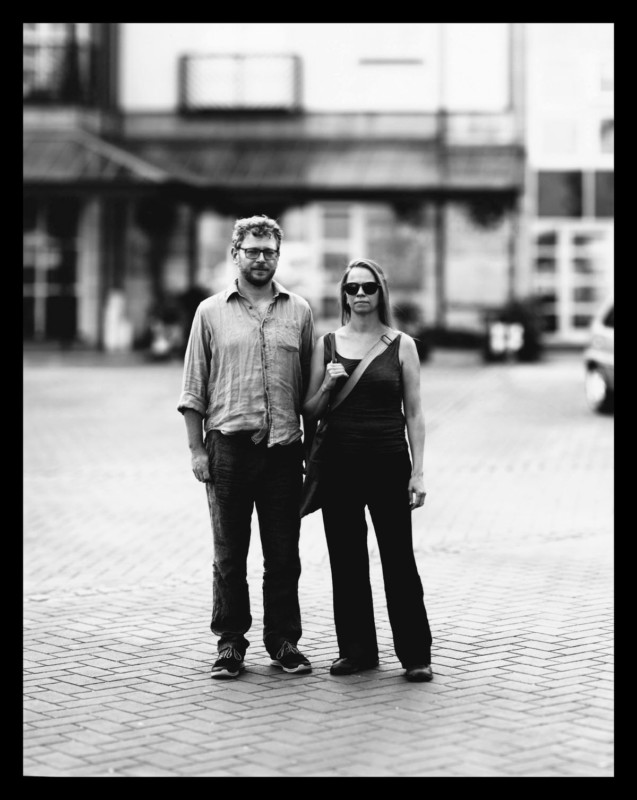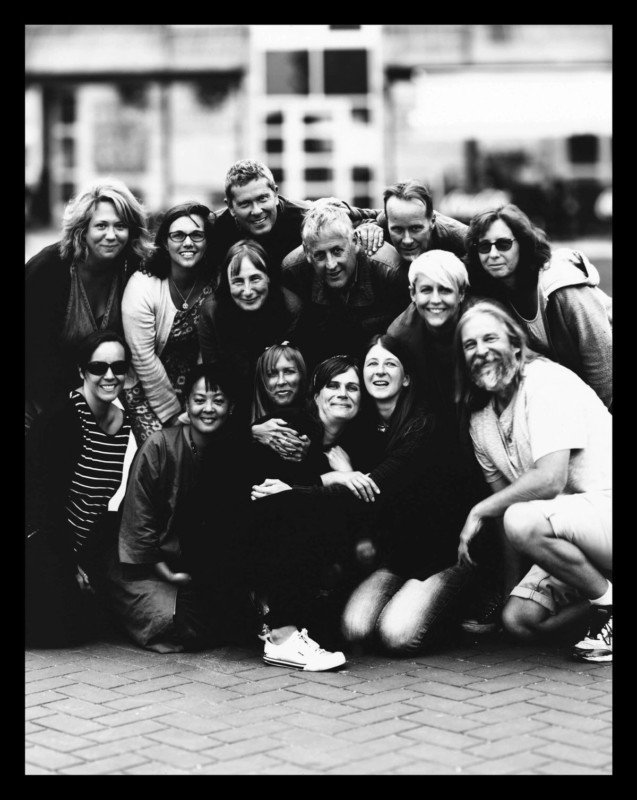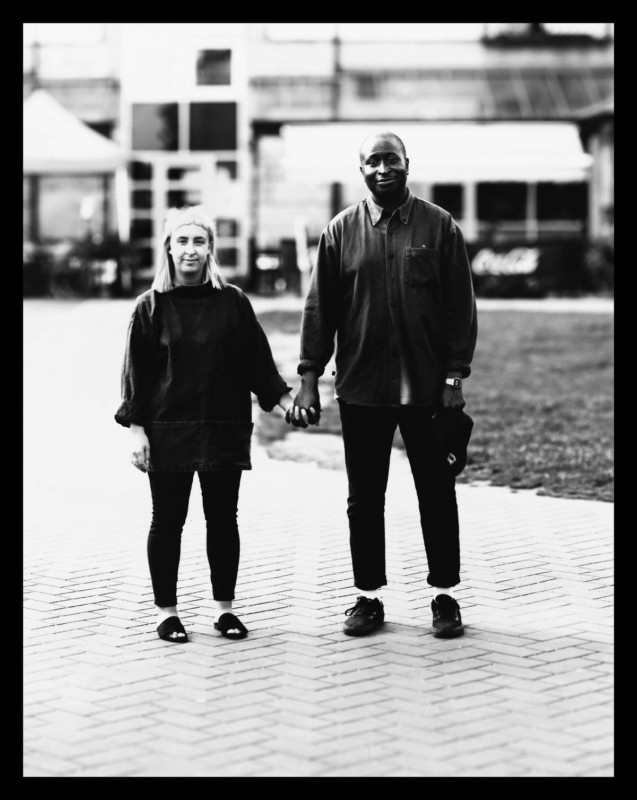 So what now?! The camera has an Apo Nikkor 1210mm process lens in it which produces an image circle that covers the entire height and width of the caravan (over 6ft high and 6ft wide), so the image-making potential of it is huge! I would like to make some 1 to 1 life size portraits and take her out to the country to see how she responds to the landscape, using rolls of photographic paper, cut to size.
I have some workshops and school/college visits coming up and some collaborative projects on the horizon, and Mark II is in the planning stages! This would be a bit bigger to accommodate a studio in one end, an enlarger, and wheelchair access. After that? I've got an idea for a Lorry Camera!
---
About the author: Brendan Barry is a photographer based in England. You can find more of his work on his website and on Instagram.