Canon Helps Sick Children Express Themselves Through Photography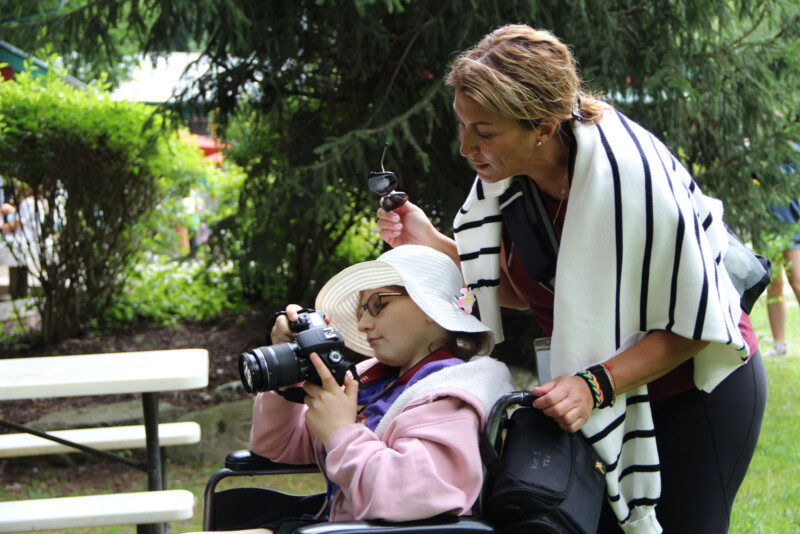 Canon hosted a workshop with the Ronald McDonald Camp to teach children battling cancer about photography.
The Ronald McDonald Camp is an in-person event for children battling cancer hosted as part of the Ronald McDonald House charities. For the camp, Canon staff lent Canon EOS Rebel DSLR kits to the children, who were taught photography basics like composition, angle of view, lighting, and how to use techniques like shutter speed, movement, aperture, and bokeh to bring their creative visions to life.
There were also two filmmaking workshops led by Columbia University Film School staff, which included a presentation on the history and concepts of filmmaking, storytelling, and production. The children also got to make and share short films.
"I've always wanted to learn how to use a camera and was thinking of taking a class in school. When I had the option to learn how to use one at camp, I was so excited. I had so much fun taking pictures and am happy I had the opportunity to learn!" says Mikayla, one of the campers.
On the final night, participants showed off their work in a talent show where the short film were screen and photos were displayed in a slideshow accompanied by music. Alece Oxendine of Columbia University Film School says the highlight of the experience was "seeing their awe-stricken faces while watching their idea come to life on the big screen."
"I really loved how the filmmaking activity brought the whole cabin together and how it involved everyone, whether it be with filming, acting, directing, or producing," another camper named James explains. "On top of that, the volunteers also added a ton to the experience, actually helping us produce our finished product, which just added so much to the experience."
Canon printed each of the children's best photo on a Canon imagePROGRAF PRO-1000 printer, displaying the images in the cafeteria for everyone to see.
"I liked using the cameras and having the freedom to take pictures. I liked the creativity involved in it, and I loved the results! Also, another friend of mine in the program gave me a great picture he took of me, and it's one of my favorite souvenirs from RMC!" says one of the children, Torben.
This is the sixth year in a row Canon participated in the Ronald McDonald House Camp (during the pandemic, Canon hosted the camp virtually) and the first year that included filmmaking workshops. And the addition seems to have been a hit.
"I loved acting and being silly in our cabin video. Seeing the finished product and showing it off (to my friends and family) was really cool," says camper Justin.
Another child, Ryan, agrees, "I liked being able to work with my friends on a film that was really fun to work on and was funny to watch."
Canon staff are already thinking about next year's camp.
"Working with the campers and seeing them grow and learn as photographers right in front of our eyes with such joy on their faces are memories I will always cherish," says Lisa Gualtieri Alford, who is part of Canon's staff. "I'm already thinking about what next summer's workshops will be like."
---
Image credits: Photos provided courtesy of Canon USA.