I Fell Victim to a $1,500 Used Camera Lens Scam on Amazon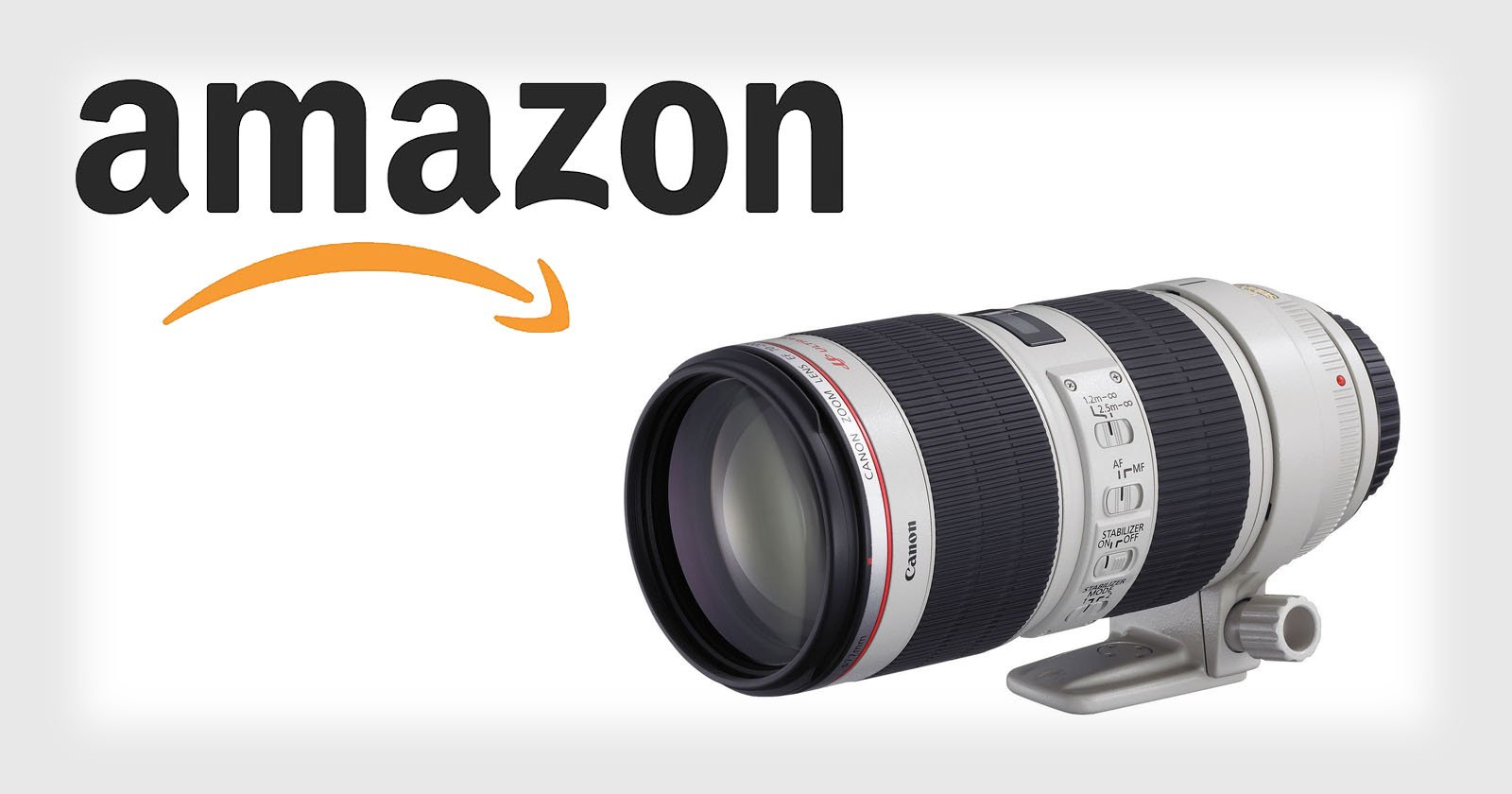 I've been ordering used lenses for years and have never had a problem with any purchases. That is, until now. I recently ordered a $1,500 used camera lens from Amazon. The lens never showed up, and Amazon is refusing to return my money because they claim the tracking number shows that it was delivered to my address.

Here's the story of how I fell victim to this used lens scam.
On June 29th, I ordered a used lens through Amazon Marketplace, and the seller's name was "Lana's Store". The lens is a Canon 70-200mm f/2.8 II, which normally runs around between $1,500 and $1,600 used. The description of the used lens indicated the lens is in excellent condition and the price seemed very good… maybe too good:
The seller had one good review but didn't appear to be selling anything else. I figure it was just a person selling their used items.
On July 8th, I received a status update for the order. It was marked as "shipped" along with a USPS tracking number. Finally, it shipped! I had waited a week and a half patiently since sometimes private sellers take some time to ship. Unfortunately, after looking at the package tracking information, my happiness was immediately wiped away: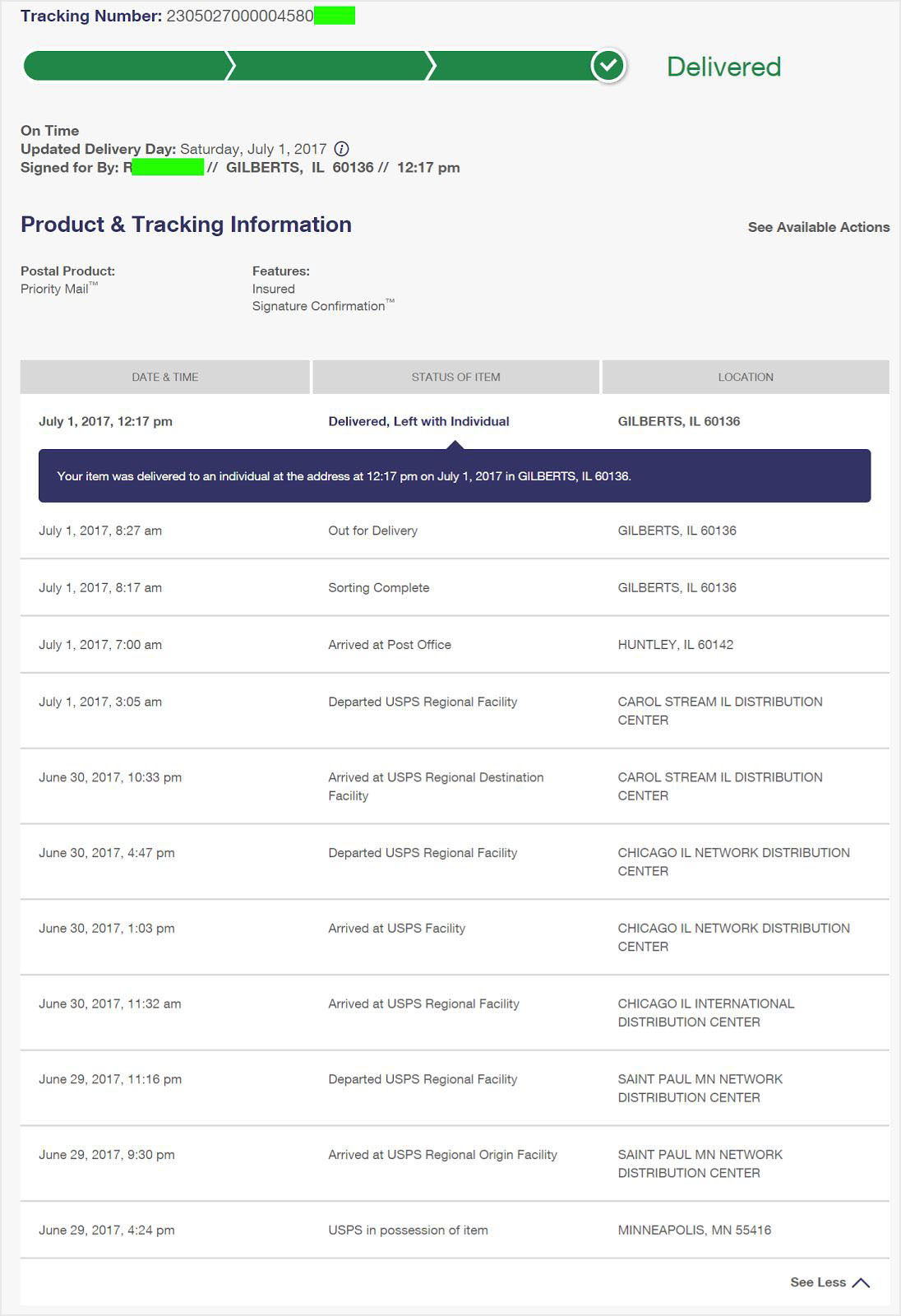 It appears the package was delivered to the door and signed by someone I don't know! At first, I panicked, went looking for a package, and asking neighbors if they knew this Mr. "R" person who had signed for my package. After calming down a little I realized that there is this section of the tracking page:
I filled the form and within a minute received a PDF file with the "proof of delivery":
So apparently the package was delivered and signed by "L" who has the same last name as "R". Also, it's a good thing that USPS makes you write the first line of your address. So, apparently, my package was delivered to the wrong address, which explains why I didn't get it and why someone else would sign for it.
I sent a few messages to the seller to see if the package was sent to the wrong address but never received any replies.
Eventually, I decided to visit the address on the proof of delivery — a house located on the other side of my town. The people living at the address appeared very nice and helpful. They did confirm that they received the package and did sign for it. Here are some pictures of the package they received: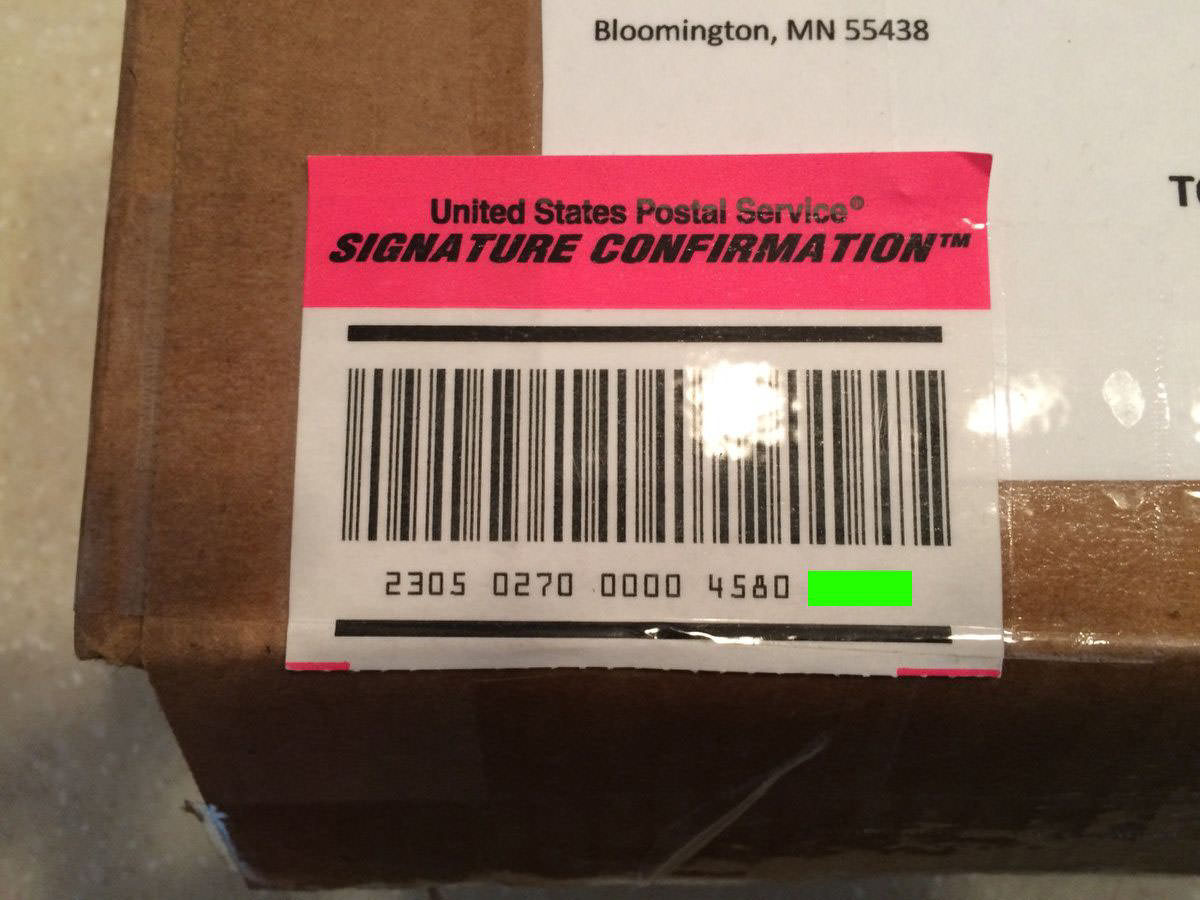 The package appears to be addressed to "Mr. S or Current Resident". Mrs. "L" informed me that Mr. "S" is her late father who passed away at the end of May, which is why she signed for it. So here's what I found out at this point:
They didn't order or expect this package.
The package contained two baking mats.
Package weight was around 8 oz.
The sender's address is some apartment complex in Minnesota.
Who pays extra to get a signature for something like this and then writes "or Current Resident"?
Afterward, I did some digging and found out that the late Mr. "S"'s obituary with his address is available on the Internet and can be easily found by typing his very common last name and "Gilberts, IL" into Google, which is most likely how the seller found that address. I won't be posting the obituary for privacy reasons, but it's amazing how much personal information is in it. Also, notice the package weight is 8 oz, while the lens (according to specs) is 3.2 lbs.
The seller knew Amazon's system. When I made the order, they shipped a box of baking maps to Mr. "S"'s address in Gilberts, Illinois, and then used the tracking number for my order.
I contacted Amazon customer service on July 10th because the seller didn't respond and I already knew the package didn't come to my address. Each contact was on the phone with Customer Service, who then forwards a short message to the A-to-Z claims people. The case was closed on July 11th because:
We have closed your claim for order 111-5490204-451xxxx because the tracking information below shows that someone at your address signed for the package. This order is not eligible for the A-to-z Guarantee because it arrived at your address.
I appealed the case, explaining once more that I didn't sign it and it didn't go to my address, but the case was kept closed because apparently they just check the tracking number, which indicates it was signed by someone (it doesn't appear to matter who) and delivered in Gilberts, Illinois. This is the key: apparently, that's all they check!
I appealed again on July 27, asking them to get proof of delivery from USPS and open an investigation, but to no avail:
I then finally figured out that I can reply directly to these emails with attachments myself, so I submitted the proof of delivery proving it was sent to the wrong address. But Amazon then told me:
Before we can cover this item under our guarantee, we need to confirm that it was delivered to the incorrect address.

Please send a copy of a statement from the shipper to us and the seller at the email addresses below. To help us match the statement to the correct claim, be sure to include your order number in the email.

We will not be replying to your mail if the proof provided is insufficient or invalid.
At this point, I felt like this whole thing was driving me insane. There was no lens in the box, and the package wasn't even addressed to me. But still, I went to USPS and got a letter from them that explained the package was never addressed in my name or to my address (which starts with the number 4).
I even added "[email protected]​" to the email thread, hoping Amazon CEO Jeff Bezos would receive it. On July 29th, I got this response:
I submitted one final appeal, and here's what Amazon said:
The seller has provided us with the USPS proof of delivery for this order which confirms that this package was delivered at your address with signature confirmation.
This is when I felt like I hit an "Amazon wall," with nothing left to do or try. I'm disputing the charge with my credit card right now. If the credit card dispute doesn't work out in my favor, I am left with only one option, and that's small claims court. According to Amazon's Customer Agreement, I am exempt from Arbitration if my dispute qualifies for small claims court.
So that's the story of how I found myself in a customer service nightmare after getting tricked by a $1,500 Canon camera lens. Hopefully, my story serves as a warning to be careful when buying used gear, even if it's through an online retailer as trustworthy as Amazon.
---
Update on 8/17/17: Amazon is working to refund the money and gave me some extra. Because I submitted a credit dispute with my credit card, the return becomes difficult. I've been pretty blown away by the support, with random people offering help. It also seems like I'm also not theonly one that has been affected by this type of scam.
Amazon's representative admitted that it seems they need to have a look at the claims process. I must say, looking at the whole situation, there are things I could do better the next time around.
Buy used items from only established sellers. The second lens I ordered (I needed one by a certain time) was from a reputable seller and it was a smooth process.
When the scam happens, don't submit the claim without some evidence, since the burden of proof may be on the buyer side. It's best not to panic and dig around.
Look to the shipping company for more information about the package, such as weight, signatures, etc. With USPS, even through you're not the shipper or the receiver, you may still get the information. With others, I think it's unfortunately the shipper that can request more information.
Look at things not only from your point of view but also, Amazon's and the seller's points of view. I only presented my side of the story because I had no information about/from seller at all, but what if it was someone at the shipping company?
Collect the evidence and send it along with the claim the first time around. Re-appealing multiple times may cause the claims people to ignore your evidence. The first claim I made was "I didn't get my package because it went to someone else's address".
In case of USPS, ask for USPIS (Postal Inspector) to get the case started. The seller broke federal law. USPIS can subpoena the seller information from Amazon and figure it out.
If you file a credit dispute via your credit card, there is no point in talking to Amazon claims because they won't be able to push a return. Use it as a last resort and yes, you will most likely have to provide some evidence too.
It's in Amazon's best interest to fix the claims issue and I think they'll be looking out for this type of scams now. This was purely based on Amazon's inability to process proof of delivery. We all lose when scammers attack.
---
About the author: Ziemowit Pierzycki is a photographer based in Gilberts, Illinois. The opinions expressed in this article are solely those of the author.