Facebook Marketplace is a New Place to Buy and Sell Camera Gear
Craigslist is one of the go-to places for photographers looking to buy and sell used camera gear locally, but a new challenged has emerged. Facebook has announced a new Craigslist-competitor called Marketplace, a feature that lets you buy and sell in your local community.

In recent years, Facebook Groups have grown into a popular way for users to buy and sell with one another — Facebook says that over 450 million people visit these kinds of "buy and sell groups" every month, from people selling unwanted possessions locally to collectors trading specific items internationally.
Seeing this demand, Facebook is now opening up an official system for these transactions to occur.
Marketplace appears as a shop icon at the bottom of Facebook's app. You can search for items for sale using the bar at the top, and results can be filtered by location, category, and price. If you'd like to browse, simply select the category you're interested in (e.g. Household, Electronics, Apparel).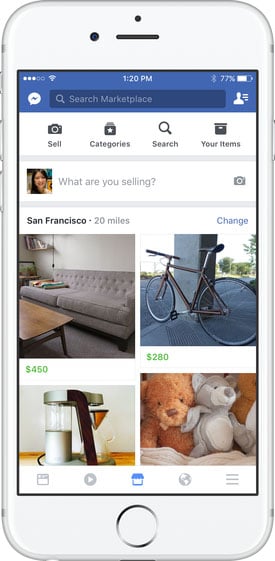 Individual item listing pages include the name and profile pic of the seller, their location, and details about the product.
When you're interested in something, you can directly message the seller to work out a deal. Like Craigslist (and unlike eBay), Facebook doesn't play any role in ensuring payment or delivery.
To sell something you own, choose a photo of it, enter some details (e.g. name, description, price), confirm your location, and select a category.
Facebook isn't doing away with existing buy and sell Groups, but is instead offering Marketplace as a larger, official, and more streamlined channel for buying and selling to occur.
Marketplace is rolling out to 18-year-old+ users in US, UK, Australia, and New Zealand on iPhone and Android in the next few days. International expansion and addition feature updates will arrive in the coming months.
One of the main downsides of Craigslist is the anonymity of users, and every so often scary stories pop up in the news of scams, robberies, or attacks that have occurred through the service. Facebook's Marketplace adds at least a tiny bit more trust to the equation because each listing will be associated with a name and a face.