Why You Should Use Back-Button AF on Nikon DSLRs
I finally have a chance to write a few thoughts down on the new Nikon D500. Were you (like me) one of the thousands of Nikon photographers who waited seven years for the successor to the D300s?

I have used a full-frame Nikon DSLR since the introduction of the D3/D700 series, but I have co-currently kept a DX body as well. As a professional, the smaller sensor and 1.5x lens factor means they provide better reach, for example, turning a 300mm f/4 into a 450mm f/4, and with a smaller sensor, Nikon is able to build cameras and dedicated DX lenses smaller and lighter when I don't want to carry the weight of full-frame.
But for those who wanted a professional grade DX-Sensor Camera from Nikon, it has been a long wait; the D7100 and then D7200 were great cameras but only now, with the introduction of the D500, was the prosumer DX torch passed.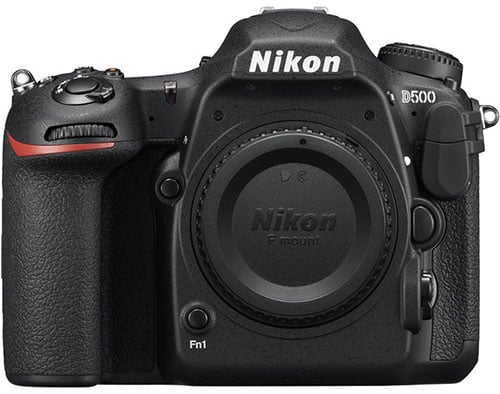 I'll talk about more of the many innovative features on the D500 which no doubt will find their way into new Nikon bodies in the future, but for today I wanted to speak to one of the most exciting features that has not got a lot of press: an extra AF back button option that can change the way we capture a fast moving world. More later but first lets talk about why back-button AF is such a big deal.
Those of you who know me or who may have taken a class or workshop with me (or overheard me at a bus stop speaking to a stranger) know that I'm an evangelist for Nikon back-button autofocus.
First available on the Nikon F5 back in the day, I've used it ever since. It's a natural and intuitive way to autofocus with your Nikon camera.
You just disengage focus from the shutter button and use the D500's dedicated AF-ON Button to initiate focus. Try it; and after one good, long shooting session you won't forget to press the AF-ON button and you'll never go back to the shutter for AF.
Setting It Up
Here's how to set it up on the D500.
The AF-ON button by default will also initiate focus. The key is to disengage AF from the shutter release. In the Custom Settings Menu (CSM) go to a8 (Af Activation) & choose "AF ON only" and set "Enable" out of focus release.
A few more things need to be in place for back-button autofocusing.
a1 (AF-C Priority Selection) I set to "Release + Focus" for general work since it will slow down the potentially very fast frame rate for more in focus images. If fast action was all I was doing I would set it to "Release".
The other thing you need to know for correct usage of back-button AF is you need to be in "Continuous Servo Mode".
I expect many of you already shoot this way, but for newbies, I am so confident you will love this way to shoot with your Nikon DSLR that I recommend you go back to the CSM-A10 "Autofocus mode restrictions" and set AF-C.
This means you won't be able to use anything but Continuous servo mode which is fine, since there won't ever be a need for AF-S anymore as a back-button AF person.
The Big Deal
Ok you're set. So what's the big deal?
Well with back-button AF on continuous-servo mode you essentially can focus on fast moving subjects or non-moving subjects without having to make any changes. (AF-S to AF-C). It's a simple tweak that has enormous positive consequences for your work.
Before I go on, now is a good time to mention a few words about the D500's 153 Point AF System (of which 55 are selectable). This is the same AF system used in the flagship D5 which costs more than three times the price. The 153-point system has it's own dedicated AF processor and 99 of the points are the much more sensitive cross type, which means snappier AF even in low light & contrast situations. And because the DX sensor is smaller, the 55 selectable points cover more of the frame, which is a bonus for me, who tends to like offbeat compositions with the focus point more at the extremes than in the center.
The D500 is the fastest AF system I've used on any camera period. (I expect my D5 to be just as fast or maybe a little faster). But there's more to sheer speed of AF when it comes to sharp images.
There are no less than seven different auto-area modes to choose from and this can be confusing….Single Point, Dynamic Area 25 Points, Dynamic Area 72 Points, Dynamic Area 153 Points, Dynamic Area 3D Points, Group Area 5 Points & Auto Area.
There is not one perfect setting which is why we have so many options. I tend not to give up too much control for something as important as focus to the camera. So I traditionally use Single Point, which is the most precise, as my starting point.
For action I go to Dynamic Area 25 or 72, depending how hard it is to keep my priority sensor on a fast and erratic subject and maybe Group Area AF with very fast and smaller elements within the frame.
The others (3D and Auto-Area) give up too much control over focus to the camera and I have not had as good luck with it. That said, the D500/D5 AF systems now have 3D tracking face-detection and the ability to increase the focus area which makes this 3D different and faster than previous versions. I'm experimenting with the new system, and will report back to you my findings.
I will talk more about the various choices and most importantly, when to use them in a future post, but for explaining back-button autofocus, I'll set my D500 to single point. Single point is the most precise—whichever of the 55 selectable points you choose, that is where the focus will be when you hit the AF-ON button.
How To Do It
With back button AF, if the subject is not moving, just place your priority sensor on the part of the frame you want to focus on and hit the AF-ON button. By letting go of the AF-ON button you lock the focus. You can take the picture or carefully recompose (without losing the plane of focus) and your subject stays sharp.
If the subject is moving, just keep the priority sensor on the moving subject while pressing and holding the AF-ON button as you shoot. The AF system tracks the subject as it moves and the images will be sharp.
So essentially all your doing as a "BBA" is eliminating the need to go from Single Servo to Continuous Servo, which sounds like a small tweak in theory but it's transformative in practice. By pressing the AF-ON button and letting go, you lock the focus as you would in Single-Servo mode by half-pressing the shutter button.
With moving subjects, pressing and holding the AF-ON button and shooting as you do tracks the subject. But even if the subject is not moving and you forget to let go of the AF-ON button, the system tries to track it but if it doesn't move it still focuses for a sharp image.
Practice this and you will see why so many photographers are using it. I guarantee your percentage of in-focus images goes up; significantly.
The Evolution of Back Button AF
Now the bonus on the new D500 (and D5) for back button AF photographers.
There's a sub-selector to the left and just below the AF-ON button. This joystick button can move the focus points around within the frame but you can also program it to focus when you press it in.
So you can have a choice of two different back buttons to use.
What's exciting about this is you can program the sub-selector (of AF-ON button) to not only focus, but to use a specific AF area mode as well. So you can program your AF-ON button to use Single Point for example, and the sub-selector can be set to focus in Dynamic 25 or Dynamic 72 or any of the six other systems available to you.
So a sports shooter can hit the AF-ON button set to single point to focus on the eyes of a coach in heated discussion with a player. Or the sub-selector set to Dynamic 72, or Group Area when capturing fast moving action on the field…you can see how this can be useful…
I recommend not setting an area-mode for the AF-ON button since whichever area mode you select, that is the mode the AF-ON button uses.
This is a first from Nikon and one I know will translate into stronger and sharper images with a little practice.
To set the sub-selector, just shortcut to f1 in the CSM menu by hitting the "i" button, then scroll down to "Sub-selector center" and choose "AF-Area mode + AF-ON, where you can choose one of six AF-Area modes.
This is big!
---
P.S. Images above were made in my Cuba Street Workshop with my D500. I'm heading back in July.
---
About the author: Steve Simon is a photographer based in New York City who's obsessed with documentary photography and all things photographic. You can find more of his work and writing on his website and blog. This article was also published here.