Nikon DX DSLRs and Lenses Disappearing or Not Being Restocked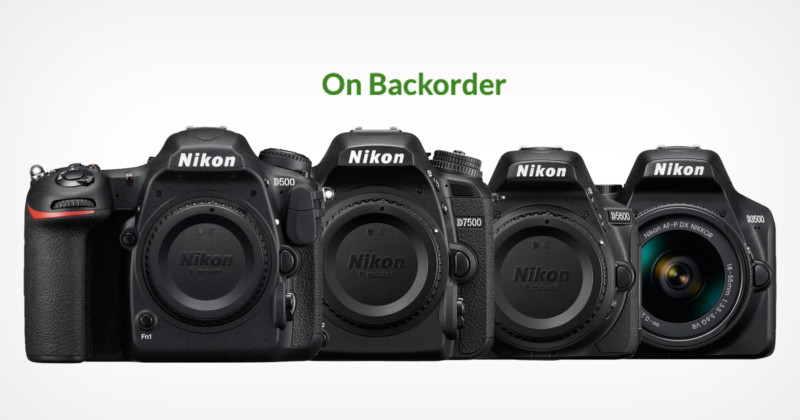 Many of Nikon's crop-sensor DX-format DSLRs and at least one lens are either not being actively restocked or showing as "old product," which has led some to question the future of the company's APS-C DSLR support.
As noted by Nikon Rumors, most Nikon D3500 and D7500 camera combinations, the D5600, and the D500 are on backorder. The D500, in particular, has apparently been out of stock "for months." Additionally, the Nikkor 18-55mm f/3.5-5.6G VR lens is listed as "old product" on the official Nikon website, which is the terminology that Nikon uses for "discontinued" products. As Nikon Rumors notes, this particular lens was the main kit lens for the D3500 and D5600 cameras.
The rumor site notes that the lack of stock of these products combined with Nikon's closure of factories, reduction in expenses, and staff layoffs means it is unlikely that the company will produce entry-level DX DSLR cameras again, though a DX mirrorless Z-mount camera is still probably in the works.
While these particular crop-sensor cameras and lenses have been out of stock and probably have been for some time, this situation is not out of the ordinary for Nikon in recent months. The company is still struggling to produce enough Z7 II cameras to meet demand, which appear to be on perpetual backorder. While PetaPixel can confirm that the camera is making it to store shelves in some capacity, not nearly enough have been shipped stateside yet to even fulfill pre-orders from last year. As a result, it may still be some time before the camera can be purchased from general inventory.
Last December, Nikon announced that it would be shuttering its domestic Japanese camera production for good and moving it to Taiwan as part of a company-wide initiative to reduce operating costs by 59%. While Nikon intends to cease domestic production of cameras, namely the D6 DSLR, by the end of 2021, this production shortage still seems strange.
Considering that the company reportedly shifted its mirrorless production to Thailand prior to the announcement that it would close its Japanese facilities, seeing the company struggle to release any camera bodies across its lineup to this degree is troubling. Theoretically, the available stock of cameras that Nikon intended to continue selling should not have been affected by this move, so seeing both new mirrorless cameras and old DSLRs not make it to store shelves is likely due to another unknown issue.
Nikon did not immediately respond to the request for comment.