How I Shot 'Beauty and the Beast' with a Model and a Tornado
Mother Nature can be such a beautiful and powerful phenomena to watch, and if you're not careful, you can quickly become addicted to it. That's my problem: I'm addicted, and I have been for a long time now.

I've spent the past 16 years of my life traveling countless miles across
Tornado Alley
, documenting everything from devastating EF5 tornadoes to blinding close encounters with lightning and even having my car nicely remodeled by softball-sized hail. It's not only an adrenaline rush, but it's an opportunity to put some extremely powerful moments in front of my lens and to share those moments with the world.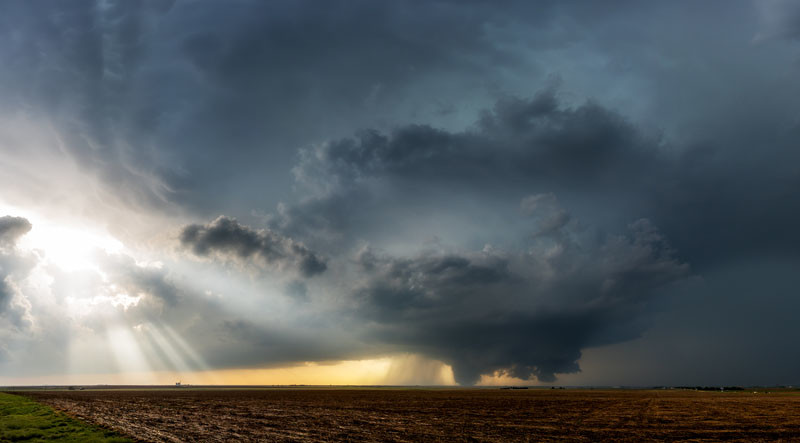 For the longest time I've desired to capture an image that displayed the raw power and beauty of nature along with the human element. This past week, I spent six days on the road with two friends, traveling the plains in search of severe weather. The atmosphere was coming together perfectly for an incredible week of chasing.
My friend and fellow photographer, Elisabeth Brentano, happened to bring a nice white dress with her and we discussed the possibility of getting a shot of her in front of a storm wearing the dress. Little did we know, that scenario would come to fruition on May 24, near Dodge City, Kansas. It wouldn't just be an amazing storm in front of us, we would witness a tornado outbreak with nearly a dozen tornadoes dropping down from the sky in a few hours time. Thankfully, none of these tornadoes resulted in major damage or injuries.
We arrived at our storm a little after it initiated, and I could tell that it meant business. It was organized and already starting to rapidly rotate. We stood on a dirt road for about 20 minutes anxiously waiting as our storm gained strength and eventually put down its first of many tornadoes.
It was a beautiful tornado, but our road network didn't allow us to safely get close enough to capture the image I envisioned. About 30 minutes later, our storm began spitting out tornadoes left and right. At one time, we had three tornadoes on the ground at the same time. This was our moment. We were able get about a half a mile away from one of the larger tornadoes and had a lush green field to create our shot in.
Elisabeth jumped out of the car and quickly put her dress on as I assessed the scene and composition that I wanted. The winds were raging and it was quite the battle to get Elisabeth's dress and hair to cooperate, but after rattling off nearly two-dozen frames, I felt confident the shot was captured and it was time to hit the road the other way back to safety.
All in all, I'm extremely happy with the way the final image entitled, "The Beauty and The Beast" turned out.
For those that are interested in the EXIF data for the final shot, here you go: Nikon D810, Nikon 24-70mm at 24mm, ISO 200, f/5.0, and 1/320s
---
P.S. I'd like to take a moment to state that storm chasing is an extremely dangerous thing to do without prior experience and a background in meteorology. Please don't try to chase storms without going with someone who has been doing it for a while. If you'd like to go on a chase, there are plenty of amazing storm chasing tour companies out there. I'd like to suggest Extreme Tornado Tours, Cloud 9 Tours, or Silver Lining Tours.
---
About the author: Mike Mezeul II is an award winning, professional photographer currently based out of Allen, Texas. His portfolio consists of professional sports, advertising, wedding and concert photography, but his work in landscape and skyscape photography truly separates himself from others. You can find more of his work on his website, Facebook, and Instagram.