Transient Eclipse: Experimenting with Aerial Lighting
Photographing movement and action has been a passion of mine since I first picked up a camera in 2003 and although my techniques and craft have changed my subject matter has held true to capturing the fleeting moment throughout the years.
I began flying drones back in 2013 and then experimenting with mounting lights on them towards the end of 2014/ January of 2015. With the rise in popularity of drones, as well as oversaturation of people's aerial imagery, I wanted to alter the purpose of how you can use drones in a creative and dynamic way. The main idea being the ability to push the boundaries of advanced lighting by using them to position lights where there is no access for a light stand to be stationed.
My first instinct was to get a flash over the ocean. My first self portrait experimenting with this new technique secured my confidence that Aerial lighting will be the next revolutionary advancement in advanced imaging.
Dealing with the elements of nature can be difficult and sporadic at times as well. The technical challenges included misfires, transmitters/receivers not communicating because of multiple radio frequencies from the drone. Monitor interference/lost signal.
The drone I began using had horrible power issues due to the fact that it was not supposed to carry the amount weight I was applying to it by adding my flash, batteries, and receiver. I learned that I had to get my shots very quickly, as flying times were dramatically reduced to roughly 2- 3 minutes in the beginning. Now that I have upgraded my systems I am able to steady 7 to 8 minute flight times.
Initially engine failure and overheating were common occurrences, which nearly destroyed the first rig multiple times and had the possibility of falling on my subjects if anything were to go wrong. Fortunately that was not the case. My subjects are typically moving and I prefer to fly manually, which makes coordinating locations, focus, speed, and timing more than tricky. If any of the aforementioned problems act up, the shot is blown and we have to try again.
On the shot below, I had a race against time as the sun was rapidly rising changing my exposure, and 2 of my batteries began to fail nearly dropping my entire setup in the lagoon. My subject and fellow artist Adam Amaral was completely oblivious to the fact as he was nearly completely blinded wearing one of his shapehead masks while waist deep in the cold water.
Above, Michael Kollbeck manuals across the mountains with Los Angeles in the background.
I am infatuated by the way this technique hides in plain sight. At first glance it merely appears to be a full moon above the city lighting my subjects. But upon further inspection you begin to notice the arms of the drone.
This image of Max Barrera Ollieing into a hill was one of the first skateboarding shots I did which opened the door to the body of work I exhibited at Think Tank Gallery last September.
Below are a few more images included in the show at Think Tank Gallery, Los Angeles.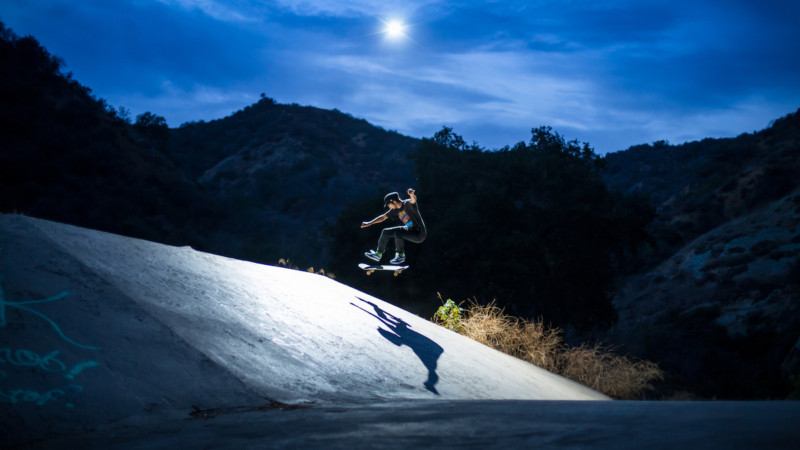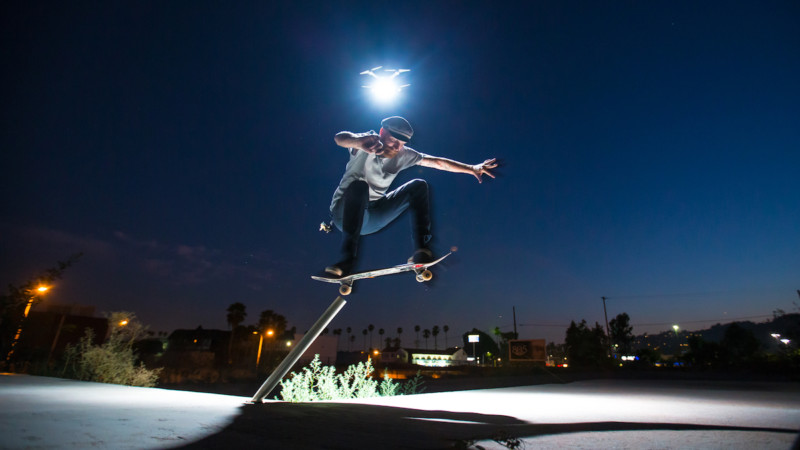 I am continually working on this project as its applications are continuing to evolve and grow, and I plan to take it further by adding motion pieces with LED's as well as multiple drones for even more advanced lighting setups.
You can find a video documenting the process I used to test this technique here, and other images in this body of work on my website.
---
About the author: Jeffrey Moustache is a Los Angeles based photographer/videographer who specializes in Commercial/Advertising, Product, Event, Editorial, and Fashion photography. You can find more of his work on his website.