Apple's 9.7-Inch iPad Pro Has an Auto White Balancing Screen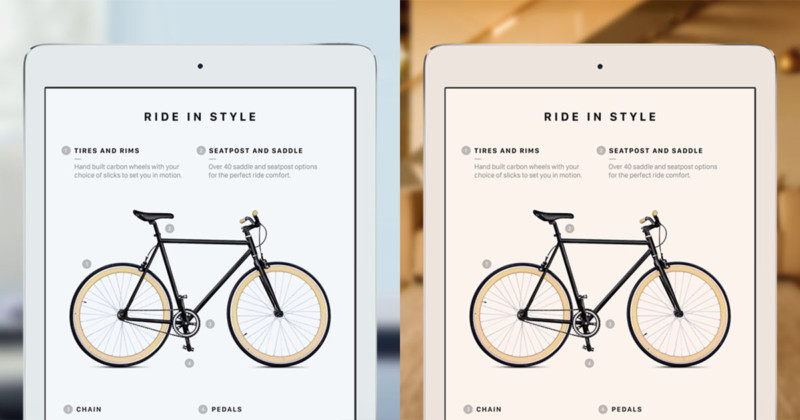 In addition to the smaller iPhone SE, Apple today also announced a new smaller 9.7-inch iPad Pro. The new tablet boasts a new color feature called True Tone that photographers may find interesting.

Basically, the 6.1mm-thick tablet can now auto white balance its screen based on the color temperature of the lighting around it. Using 2 new 4-channel ambient light sensors, the new iPad Pro measures the brightness and color temperature of its environment, then adjusts the colors of the display for a "paper-white" viewing experience.
The question for photographers is whether this feature can aid the eye in accurately reviewing and editing photos, or whether it'll be a feature that's best left off by those who are serious about color.
The color gamut in the new iPad is the same as the iMac with Retina's 5K display, and color saturation is 25% more than on the iPad Air 2. Apple has also made the display 40% less reflective and 25% brighter than the iPad Air 2.
On the back of the new iPad is a 12-megapixel iSight camera that, like the one on the iPhone SE, can capture 4K video, 63-megapixel panoramas, and Live Photos. On the front is a 5-megapixel Facetime camera. The back packs a dual tone flash, and the front side has a Retina Flash.
Other specs and features include Apple's 64-bit A9X chip, all-day battery life, a M9 motion processor, always-on Siri, Apple Pencil support, a new Smart keyboard, 4 speakers, Wi-Fi/LTE, and magnetic Smart Connector.
The 9.7-inch iPad Pro will start shipping March 31st (preorders start on the 24th), and it'll be priced at $599 for the 32GB model, $749 for the 128GB one, and $899 for 256GB. Color options include grey, gold, silver, and rose gold.