Review: The $49 Platypod Pro is the World's Most Compact Mini Tripod
You're not a photographer if you haven't been somewhere (traveling light on a weekend excursion perhaps) when out for an evening stroll you spot it… the picture you thought you wouldn't need to take this weekend: a long exposure.

---
UPDATE: I love seeing products grow up and evolve over time. When I wrote the below review on the Platypod Pro there were a few things I criticized about it.
One is that the little screw feet were quick to be lost and two was the size.
Now it includes a small magnetic holder for the feet, of which there are now 4. And though it was stable for small cameras like the A7, anything similar to a full size DSLR with a 70-200 or larger felt slightly unstable — good if you were in a pinch but not to be depended on.
Now we have the Platypod Pro Max, addressing all of the hangups I had about the Pro model, consider the larger Max when deciding your needs.
There's a kickstarter online right now — with only 13 days remaining — for Platypod Pro Max, which might just be the only way to get your hands on one for a while.
---
Your tripod is at home and the only stable base for which to rest your camera on and still somewhat frame your shot up properly is an uneven concrete wall.
The best composition you can muster includes an ugly lamppost and a garbage truck flanking either side of your frame.
If only there were some sort of slim, easy to use and effortlessly carried, lifesaver of a tool, which could, in a pinch, get the job done.
Well now there is and it's called the Platypod Pro, a $49 mini-tripod plate that fits in your pocket and is designed to quickly adapt to uneven surfaces.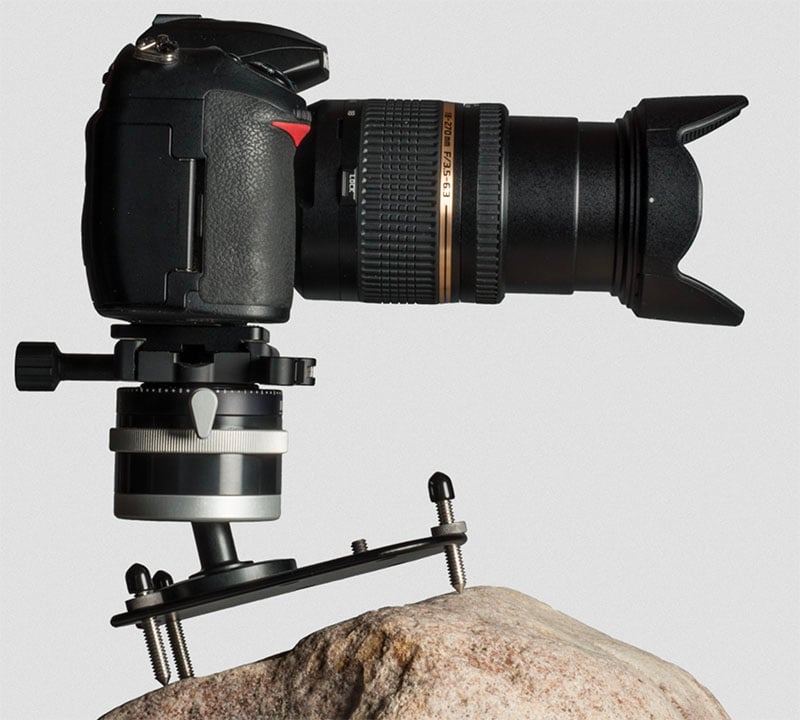 When I first saw the Platypod Pro I thought "meh, who needs that" and somewhat dismissed it. Then I began to recall all the times something like this would have been a huge help: weekends at the cottage taking pictures of the whole family, sightseeing trips to New York where tripods are pretty much banned in every major tourist attraction, and even weddings where I might have a spot to stick a DSLR for a remotely trigger picture but no space or time for a tripod.
You could mount a flash or camera to this, and honestly once you get into it the possibilities for how this may help you are kind of endless. In my mind this isn't targeted at the professional, though it may be a nice tool for the box, a pro likely already has a collection of Superclamps and small agile tripods that would do a similar job, but with a cost to bulk.
Spigot on there and suddenly your possibilities become nearly endless.
In a product video for the Platypod Pro, the company shows someone hammering/screwing nails/screws down to keep the Platypod secured to a piece of wood. The whole idea of hammering down the Platypod, while yeah you can do that, feels long-winded and more gimmick of a selling point that few will use than something that may truly come in handy. Unless you're carrying a hammer and nails around with you at all times like Tommy from This Old House, you're probably going to have another less "in a pinch" solution already figured out to secure your camera that doesn't require you to go Bob Villa.
But, that would be thinking inside the box, so let me think outside of it for a second.
I'm certain there are a few people out there, looking at the Platypod and saying "for $29 I can mount 5 or 6 of these around the studio permanently", forever having a mount point in their most commonly used lighting angles.
While it may be a little foolish to consider the idea of toting a hammer and nails around with you to secure your Platypod (you can also use zip ties!), as a permanent mount point it could save a lot of people a lot of effort.
It's important to remember that, without a tripod head of some sort the Platypod is not quite usable for cameras. So though it is slim in size on the face of it, when you add on the needed tripod head. And if you want to continue to keep the weight down while still being able to support the common large lenses like a 70-200, you'll need a decent ball head like the Manfrotto.
I used a hefty Acratech ball head which is amazing but most definitely overkill. There are smaller alternatives, consider your usage and purchase accordingly. For reference, I would suggest that the Acratech is the largest you should attach to the Platypod.
Versus the Alternatives
The competition for the Platypod are beanbags, toting your comparatively large full-size tripod with you everywhere, carrying a small-ish but unstable tripod or putting a ball head on a Manfrotto Superclamp with a small ball head, which is what I've done when I've still wanted to be effective but keep my kit small.
There are pros and cons to all of these. A full-size tripod is very stable but so large and usually won't fit in a suitcase and is a pain to carry around walking all day. A small tripod is easy to carry but less stable for those long exposure. A beanbag works, sometimes but is only good for leveling and won't let you attach a ball head to aid with composition.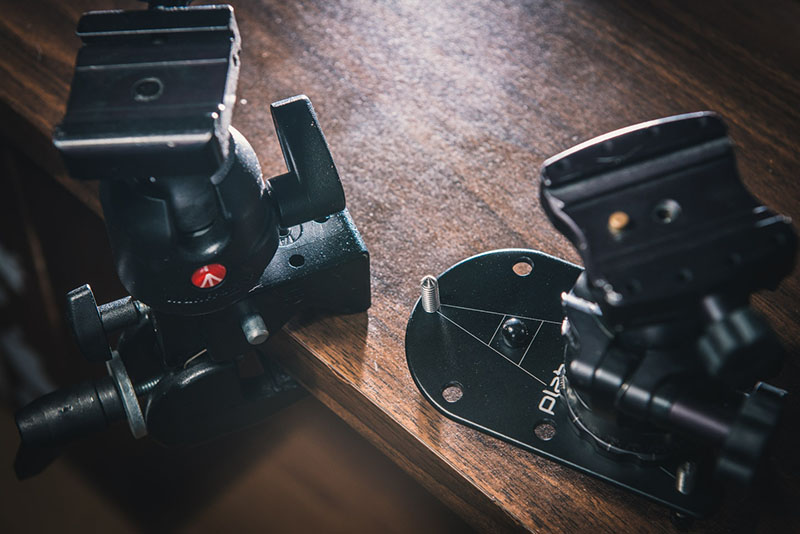 The best comparative to the Platypod Pro is a Superclamp. With a ball head attached is very, very secure but contrasted against the Platypod is extremely heavy and bulky. Looking back on various scenarios where I've taken the Superclamp, there are multiple times where I'd have been just fine or better off with the Platypod.
Visiting the Smithsonian National Air and Space Museum in DC, I didn't feel comfortable clamping onto anything but the Platypod would have been excellent to lay on a railing, level off and snap a long exposure with my Sony A7 of the people wandering past the space shuttle Discovery.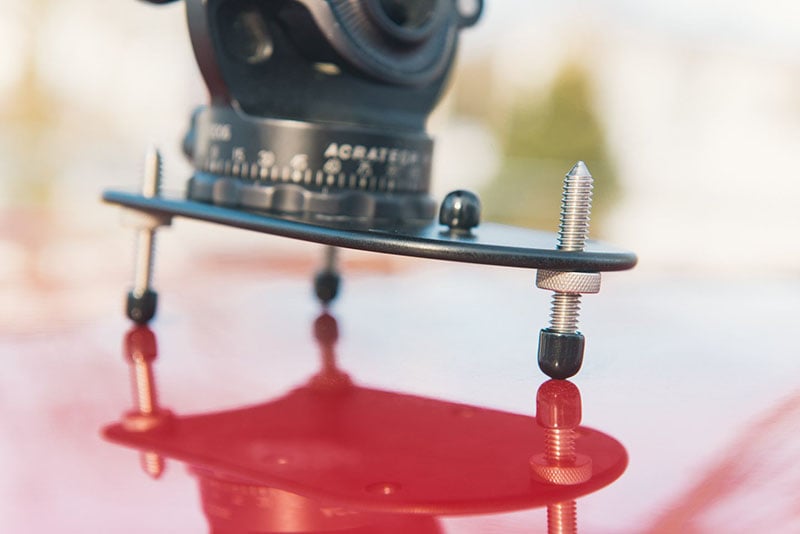 Putting the rubber tips down will help stabilize a little more while also preventing against scratching on soft surfaces like hardwood flooring or even slippery surfaces like smooth finish wooden railings or the hood of your car.
Unlike a tripod, it's quick and so long as you do not misplace the three essential screws it's no hassle.
Which brings me to this warning:
Do Not Lose The Screws
Screws are replaceable but that is a hassle you do not want while you're backpacking through Cambodia. I would have liked to see some sort of storage or attachment mechanism built into the Platypod Pro, somewhere to snap the screws onto the bottom or side of the plate when not in use but still keeping it generally flat.
Yes, there is a carrying pouch but unless you're uber tourist supreme with your socks pulled up to your knees, I can't see anyone using it except for anywhere but as part of your shoulder bag. In that case just put everything in your own bag as it will only further add to the overall bulk of the Platypod kit, thereby defeating the intended purpose and benefits of this slim mount.
Conclusion
For $49 I have no problem recommending this product, but judge accordingly. I can see my dad using the heck out of this thing — in fact he's already asked for this one — whereas, aside from some of the outside of the box usages people may come up with, I feel like this will be a fairly niche product.
Pros may find a use for one here or there and hobbyists too may find themselves using it every day or not at all. Point is, think about your workflow when shooting and try to imagine your own personal scenarios where this may help you by alleviating a headache such as how to travel light with a tripod.
It is made from aircraft quality aluminum and threads are welded titanium, I feel this will last you a very, very long time.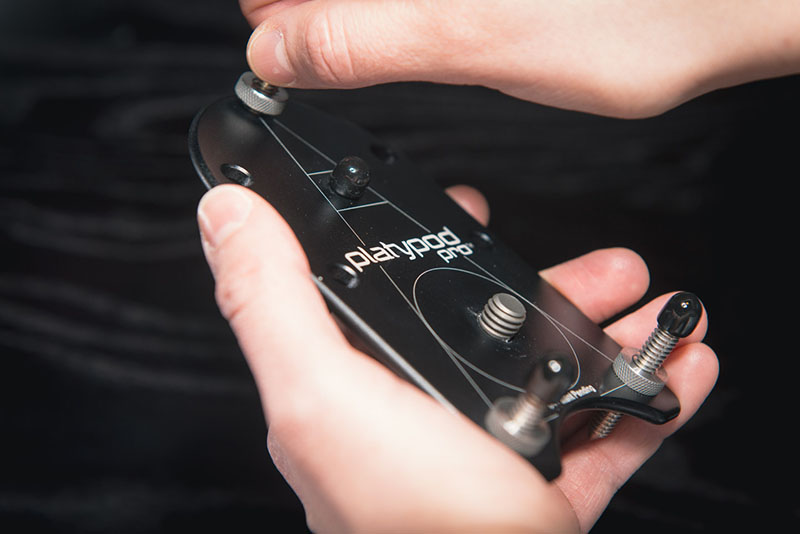 They also sell a "Platypod Pro Travel Kit" for $89 that may be the best way to go for some as it includes a micro ball head. You can also buy just the plate for $29 but you won't get the screws, spigot or carrying case.