The New Lighter Platypod eXtreme Has Folding Feet and a Better Handle
Platypod has announced its new Platypod eXtreme, a tripod alternative that the company says offers greater flexibility and stability on uneven terrain than conventional tabletop or travel tripods.
Platypod's flat tripod alternatives are described as the brainchild of CEO, photographer, and inventor Larry Tiefenbrunn who came up with the concept while hiking from the base of Bryce Canyon. He says that he realized his tripod was too cumbersome and heavy for the steep ascent and realized he needed a lightweight, heavy-duty compact option that would slide into a bag without taking up a large amount of space but would be better than what he considered to be flimsy, bendable mini tripods (clearly a reference to the Gorillapod) that occupy the space of a telephoto lens. His first Platypod was introduced in 2015 at PhotoShop World and later at the PhotoPlus Expo.
The Platypod eXtreme
The new Platypod eXtreme operates similarly to other Platypod products and has four independently adjustable legs that the company says allow for precise adjustment on uneven terrain and provides greater benefit to travel photographers who put a premium on traveling light.
The eXtreme is 5mm thick, measures 7.75 by 5.25 inches, and weighs just 9.6 ounces. The base of the Platypod eXtreme features a plate constructed of aircraft-grade aluminum with a standard 3/8-inch titanium main bolt. The company says that the eXtreme utilizes stainless steel rubber-tipped legs, screws, and springs, and is designed to securely support camera/lens combinations up to 22 pounds.
One of the main differences between the eXtreme version and previous Platypods like the Ultra is that it now has the ability to fold its legs up when not in use instead of needing to be removed. The Platypod eXtreme also has an integrated handle and continues to offer multiple attachment points that support compact lights, extension posts, and other mobile accessories.
Below is a helpful graphic that explains the difference between the new eXtreme and the Max: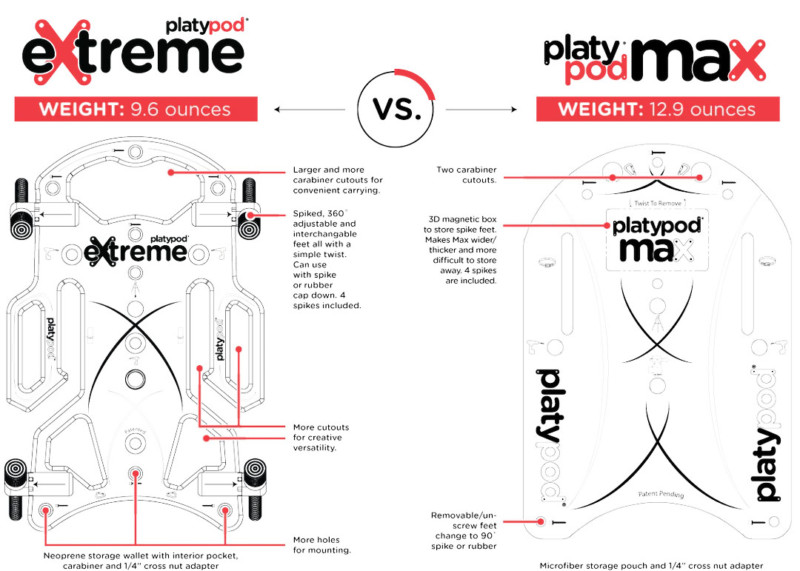 The Platypod eXtreme comes with a set of accessories including a 1/4-inch cross-nut adapter, a carabiner clip, a neoprene wallet with an inner pocket, and four spikes.
Through the Kickstarter campaign, the Platypod eXtreme is being offered at three backing levels of $119, $129, or $139. The most expensive level is only available on the first day of the campaign and will include the earliest delivery and a Multi Accessory Kit. The company intends to deliver to backers in May and after the crowdfunding campaign, the eXtreme is set to retail for $149.