MagBeam is a 2-in-1 Flash Extender and Gobo Projector
MagMod is back with another novel lighting product for photographers. Called the MagBeam, it's both a revolutionary flash extender and a gobo projector.

MagMod made a name for itself in the photo industry back in 2013 by successfully Kickstarting the MagMod, a simple light modifier that uses magnets rather than Velcro. The following year, the company added the MagSphere and MagBounce to its lineup.
The MagBeam builds upon the MagMod system. Its first use is as a "revolutionary new fresnel-lens modifier." By using a special lens to make light travel in a straight line, the flash add-on boosts your total output by 2 to 3 stops of light.
"This gives your flash greater reach when shooting distant subjects, or, brighter light when you need more than just your bare flash," MagMod tells PetaPixel. "This increased output also allows you to reduce your flash power to significantly increase recycle times. Ya, it's a big deal."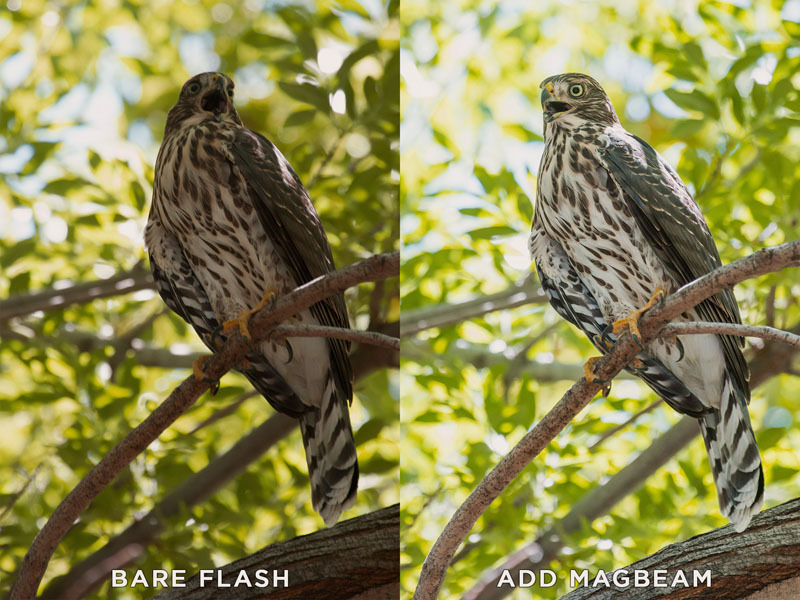 You can collapse the MagBeam to various stages to adjust your beam pattern, from having a super-focused light with a hard edge when fully extended, to putting out a wider beam when collapsed down.
The second use for the MagBeam is as a "gobo-projecting thing-of-wonder." After collapsing the MagBeam down, you can add custom MagMasks to project various patterns and shapes into your shot with light and shadows.
"MagMasks are our paper-thin custom-made stainless steel 'gobos' that 'go between' your flash and the lens in the MagBeam," MagMod says. "This pattern is then imaged through the lens and projected out where you want it to go. Sweet huh?"
Here are some sample photos captured using the MagBeam and its MagMasks:
The MagBeam just launched on Kickstarter, where it has quickly blown way past its initial $25,000 fundraising campaign. Over 500 photographers have already pledged over $80,000 toward the project in just a day.
A pledge of $55 or more will get you a MagBeam if/when it begins shipping in June 2016. Since MagMod has already established its reputation with a couple of successful Kickstarter deliveries, this campaign is likely a safer bet than some of the photo gear fundraising campaigns out there.