SP-445: A New Small and Simple Developing Tank for 4×5 Large Format Film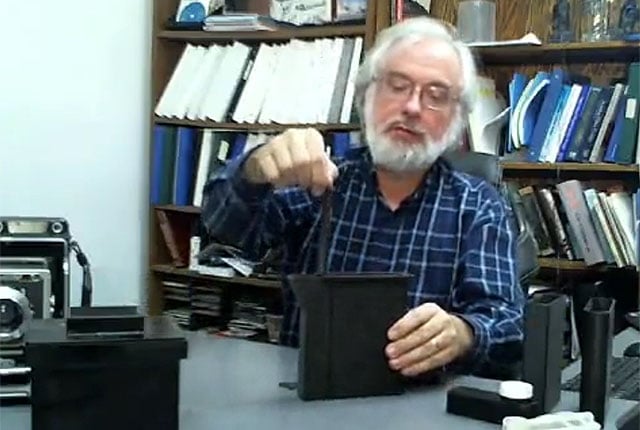 Long-time film photographer Timothy Gilbert was frustrated with existing options for processing 4×5 large format sheet film at home, so, as an engineer, he decided to create an easy-to-use and affordable system himself.
After several prototypes and extensive testing, what he came up with is the SP-445 processing system, an extremely compact and simple tank that requires minimal chemicals and effort.

Here's a short video in which Gilbert introduces the SP-445 and shows how it works:
Unlike the big bulky box-shaped tanks of the past, the SP-445 looks more like an oversized flask. The system can handle 4 sheets at a time and process them with just 16 oz (475ml) of solution — by comparison, some existing tanks require 55 oz.
The tank is easy to load, simple and reliable, easy to fill and empty, easily agitated, and inexpensive. It uses a sheet holder that's just like standard 4×5 film holders, allowing you to insert your film back-to-back into the compact space (the tank will hold two holders for four sheets).
The lid of the tank slides into place and locks. Liquid is filled and drained through a simple spout on one end. For agitation, instead of having to shake the entire tank around, you simply use a "turbulator" (a solid plunger) to pump the liquid up and down through the spout, which agitates the liquid in the main chamber.
Gilbert is turning to Kickstarter to bring his new invention to market, and the campaign has already exceeded its $27,000 goal in a handful of days after being launched. A contribution of $47 or more will get you at least one complete SP-445 system (a tank, lid, and two film holders) if/when the project successfully delivers in April 2016.
The suggested retail price after the initial units ship is expected to be around $80 or $90.
---
Thanks for sending in the tip, Mark!