These Light Painting Photographs Were Made Using an Automated Drone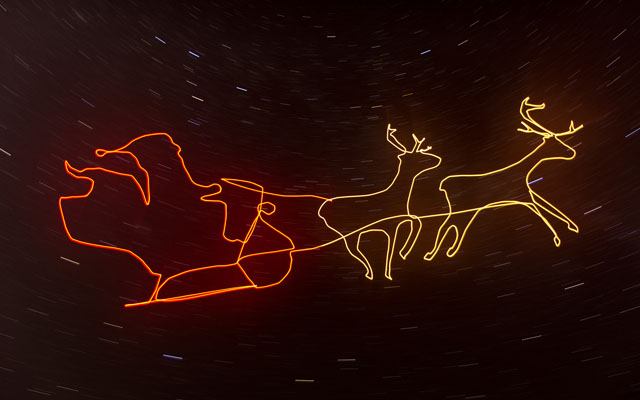 German drone manufacturer Ascending Technologies is celebrating Christmas season this year by doing some light painting photography. Each of the photos they've made was painted by an automated drone that was programmed to follow waypoints in the sky.
The company believes this is the first drone light painting project of this kind.

Using a modified version of their
AscTec Falcon 8
drone, the company mounted a bright LED light to it and controlled the drone using its AscTec Navigator flight planning software.
By following specific points in the sky while a camera's shutter is open, sometimes for up to 10 minutes at a time, the drone painted various Christmas illustrations into photographs.
Here's a behind-the-scenes video of the drone light painting (everything was filmed with a Sony a7S II, and some of the BTS scenes are visualized with VFX to show the drone's flight path):
Here's a look at some of the photos that were made:
This Santa Claus photo used up to 391 individual waypoints and a 10-minute flight:
This present photo used 68 waypoints and a 5-minute flight. Color changes were remotely controlled:
Finally, this snowflake took 85 waypoints and 7-minutes of painting with light:
A couple of these photos have been released as wallpapers, which you can download here.
If you'd like to see a less fancy and high-tech method of drone light painting, back in March we shared what you get when you strap fireworks to drones.
---
Image credits: Photographs, video, and stills courtesy Ascending Technologies