4 Giant Camera Costumes That Actually Take Pictures
Halloween is just around the corner, and if you're looking for a photo-related costume this year, one fun idea that has appeared over the years is creating a DIY giant camera that's fully functional as a camera. Here's a look at 4 examples we've seen so far.

#1: A Giant Nikon DSLR in 2011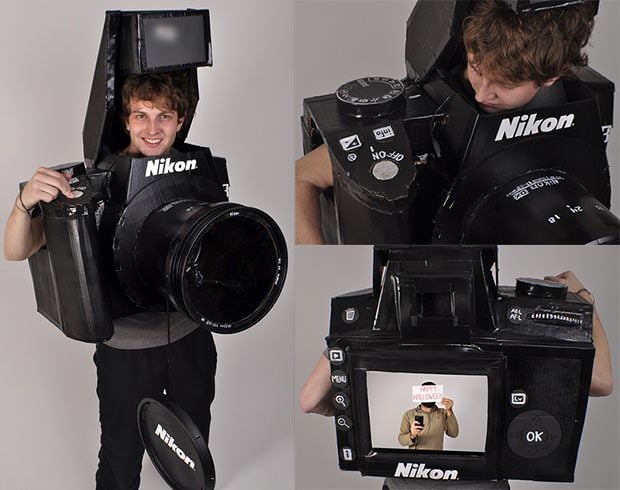 Back in 2011, we shared how photographer Tyler Card had created an impressive Nikon DSLR costume for himself. It had a functional shutter button and a giant LCD screen on the back that displayed each captured photo. Here's a look at it in action (there's also a making-of video):
#2: A Canon EOS 20D in 2013
For Halloween 2013, YouTube user rwelgosh turned his son Raymond into a Canon 20D DSLR. It used a Canon digital camera that beamed each photo to an iPad using an Eye-Fi memory card:
#3: A Nikon D3x in 2013
In 2013, photographer Damian Intranuovo turned himself into a human Nikon D3x (there are more photos of the costume on Intranuovo's Instagram account here and here):
#4: A Flip-Out LCD Screen in 2014
Last year, Torey Alford made a camera costume that displays camera settings on the back by default. Press the shutter, and the camera will shoot a flash photo, displaying the photo for review on the LCD. What's more, the LCD screen on this costume can swing out and point forward as well.
---
So, who's going to up the camera costume game this year? If it's you, be sure you let us know what you come up with!