Musician Dweezil Zappa Responds to Photographers About His Strict Contract
Guitarist Dweezil Zappa, the son of Frank Zappa, recently took to Facebook to respond to critics of his strict concert photography contact.

On September 22nd, the Facebook group Music Photographers posted a copy of Zappa's photography agreement: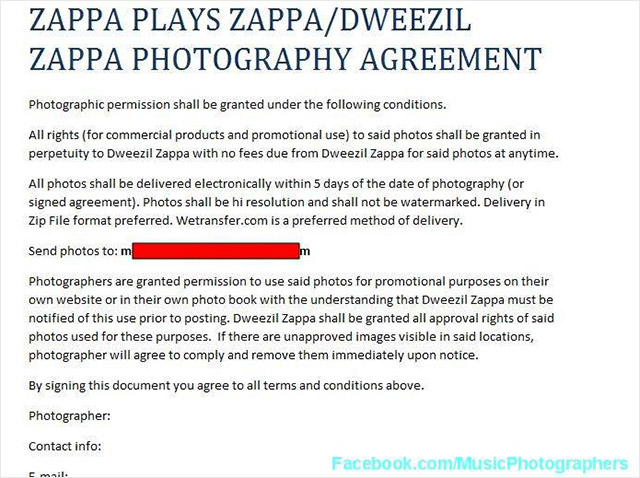 As you can see, the contact states that photographers must permanently sign over "all rights" of their photos for commercial and promotional usage to Dweezil Zappa for no payment. High-res, non-watermarked photos are due within 5 days, and photographers must notify Zappa if they wish to promote their photos on their own websites.
Photographers began chiming in on Facebook, with the vast majority saying that they wouldn't sign this restrictive contract to shoot Zappa's shows.
After a few days of conversation, Zappa himself left a comment on September 25th to offer his response:
"Gee, there's never been a time when 'photographers' have taken advantage of their subjects, people in the public eye by requesting to take photos for free in order to make money off of them without any approval of any kind," writes Zappa.
"I don't particularly care to be photographed so if there happens to be an occasion where it will take place I am well within in my rights to request control over the images," he says. "If people don't like the terms they don't take photos. It's pretty simple."
Photographers didn't take kindly to Zappa's words, calling the statement "unprofessional" and "prejudiced" in replies to the comment.
Back in June, singer Taylor Swift's contract became the center of attention after photographer Jason Sheldon wrote an open letter to Swift about it. The following month, Swift's photo agreement was reworded with help from the NPPA.
---
Image credits: Header photo by Björn Söderqvist