Taylor Swift's Concert Photo Contract Changed to Be More Photographer-Friendly
Taylor Swift's concert photography contract recently came under fire for being overreaching and for threatening to destroy photographers' equipment, leading some publications to boycott the contract and obtain photos by other means.
It looks like change has resulted from the controversy: Taylor Swift's concert photo agreement has been revised to address concerns that were raised and to be friendlier toward photographers.

The effort was led by Mickey Osterreicher, general counsel of the National Press Photographer's Association, who helped draft a new credential agreement. The new document is designed to address photographers' and publishers' concerns while still being satisfactory to Swift's representatives.
Here's a copy of the new agreement that has been approved by Taylor Swift's reps: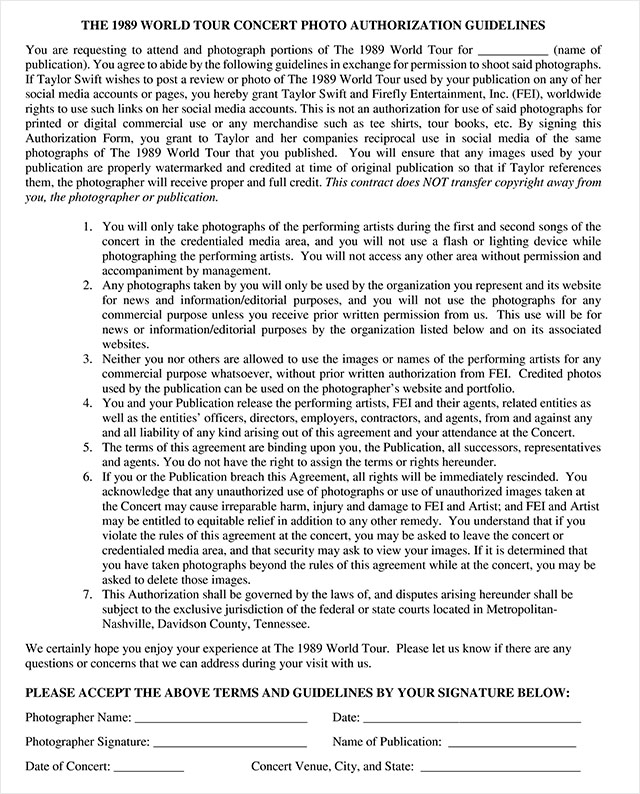 In case you missed it the first time around, here is what the original, controversial document looked like (some sections were highlighted by photographer Joel Goodman):
The new contract says that photographers who violate the agreement "may be asked to delete those images," rather than stating that Taylor's people "may confiscate and/or destroy the technology or devices that contain" the offending photos.
Photographers and publications will also be allowed to publish photos more than once, as long as it's for news/editorial purposes and not for commercial usage.
The NPPA reports that the new language is supported by 14 members of major media groups, including the Associated Press, the Associated Press Managing Editors, the Society for Professional Journalists, and the American Society of Media Professionals.
"Ms. Swift should be commended for showing by example her concern not only for the rights of musicians but for the rights of the photographers and organizations that cover her concerts," Osterreicher tells PetaPixel by email. "After taking the time to hear our concerns regarding her world tour photography guidelines agreement, the news and professional associations and Taylor's team are very pleased to have been able to work together for a revised agreement that is fair to everyone involved."
Now if the Foo Fighters would follow suit, newspapers could stop sending cartoonists to their concerts.
---
Image credits: Header illustration based on photo by marcen27