This is ISO 4,560,000 with Canon's Crazy New Camera
Back in July, Canon announced an ultra-high-sensitivity camera that has a ridiculously high max ISO of over 4,000,000. If you've been wondering what the camera can capture, check out the eye-opening sample video above that Canon just released.

The ME20F-SH features an EF lens mount and the ability to capture "high-quality" video even in situations in which the human eye can't see anything. Its minimum subject illumination is 0.0005 lux, or the equivalent of ISO 4,000,000+.
As you can see in the video above, the camera is able to "see" in pitch blackness — Canon says you'll be able to shoot under a moonless night sky. At "lower" ISOs of 102,000, the image quality appears to be quite good: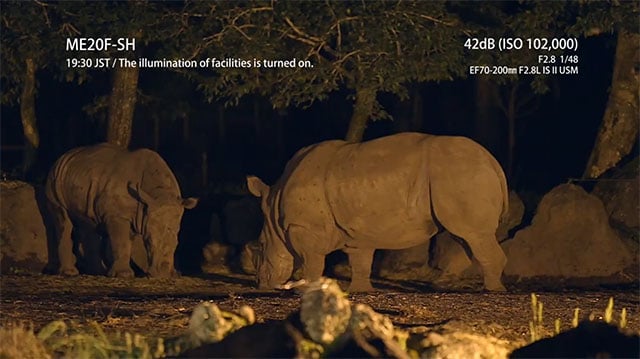 When the sensitivity is boosted all the way up to ISO 4,560,000, there's (understandably) a huge amount of noise, but you can definitely still make out the subjects in the scene:
Low-light filming is often done with infrared illumination, but the Canon ME20F-SH's super sensitivity means you can capture night-vision style images without infrared.
The ME20F-SH starts shipping in December 2015 with a price tag of $30,000.
(via Canon Japan via mirrorlessrumors)
---
Image credits: Video and still frames by Canon Japan