Apple Unveils a Giant iPad Pro and Apple Pencil Stylus
If you're interested in the idea of doing detailed photo editing on an iPad, Apple made a big announcement on that front today. The company just unveiled the new iPad Pro, a gigantic new 12.9-inch iPad that arrives on the scene with a new stylus called the Apple Pencil. Together, the combo could become a powerful new way for photographers to retouch shots.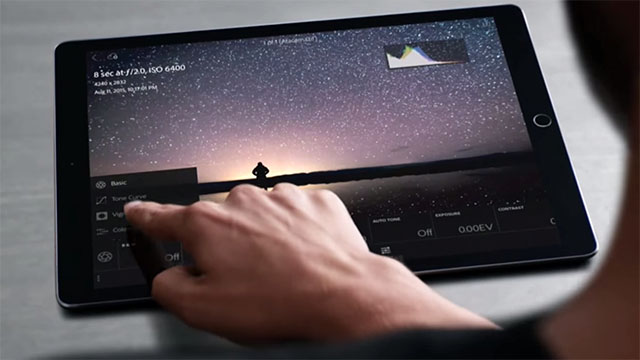 The new iPad Pro's screen has a resolution of 2,732×2,048, or 5.6 million pixels — more pixels than any other iOS device up to this point. It's as wide as the iPad Air 2 is as tall, meaning you can do split screen work with an iPad app on one side and something else on the other.
After years of avoiding the use of a stylus as an input device, Apple finally gave in with this latest iPad variant. The company's new Apple Pencil looks to be a perfect tool for photo editing.
It's a pressure sensitive, pencil-sized stylus that uses multiple sensors for detecting position, force, and tilt.
Pressing lightly with the Pencil produces a thin stroke, while pressing harder will result in a thicker stroke.
Other features of the iPad Pro include a FaceTime camera on the front, an 8-megapixel iSight camera on the back, 10 hours of battery life, 6.9mm in thickness, and 1.57 pounds in weight.
Like the Microsoft Surface, there's also a $169 Smart Keyboard accessory for adding a full keyboard input to the tablet:
Here's a short clip of today's announcement event:
The iPad Pro will start at $799 for the 32GB WiFi model, $949 for the 128GB WiFi unit, and $1,079 for the maxxed-out 128GB LTE version. The Apple Pencil doesn't come cheap, either: it'll cost a cool $99.