Govt PSA Video Warns: Don't Fly Your Camera Drone Near a Wildfire
A month after Union Pacific published a PSA video warning photographers to stay away from train tracks, the US government has published its own PSA video that warns people to keep drones away from wildfires.
The 30-second video above, titled "Drones PSA," was released by the National Interagency Fire Center last week. The center also has a new webpage titled "No Drone Zone" dedicated to warning photographers and videographers that camera drones and wildfires don't mix.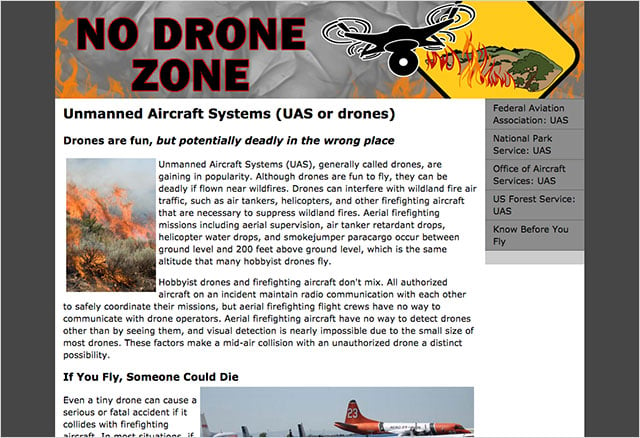 "If you fly, someone could die," the site says. "Even a tiny drone can cause a serious or fatal accident if it collides with firefighting aircraft. In most situations, if drones are spotted near a wildfire, firefighting aircraft must land due to safety concerns."
"…it is illegal to resist or interfere with the efforts of firefighter(s) to extinguish a fire. Doing so can result in a significant fine and/or a mandatory court appearance. So, be smart and just don't fly your drone anywhere near a wildfire."
This comes just weeks after the US Forest Service created a PSA poster warning about these same dangers:
"No amount of video or photos are worth the consequences," the NIFC writes. "Please, don't fly your drone near a wildfire!"