7 Unseen Photos of Dwight D. Eisenhower Found on an Undeveloped Roll of Film
Photographer Levi Bettwieser has been doing some incredible work as the founder and film technician behind The Rescued Film Project. Back in January he made headlines around the world after finding 31 rolls of undeveloped film that was shot by a World War II soldier. Now he's made another fascinating discovery: after developing an unprocessed roll of orphaned film from California, Bettwieser found never-before-seen photos of former US President Dwight D. Eisenhower.

"I don't know for sure where I acquired the roll of film or how long it has been in my backlog," Bettwieser tells PetaPixel. "Odds are that I purchased it in some kind of online auction and came from California. I don't keep track of cities from which I get film, just states and countries."
Bettwieser says that the film roll was Kodak brand, medium format, and unlabeled. It wasn't until he scanned the film into his computer that he realized who the photos contained.
"Only seven of the images on the roll are of this scene, the others include a picture of a little girl riding a giraffe on a merri-go-round, a baby with a stroller, and men playing some kind of card game," he says.
Here are the seven photographs of Eisenhower that were on the roll: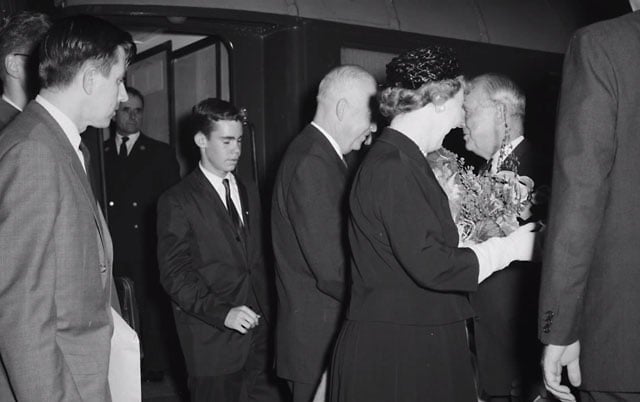 Here's a 2-minute video in which Bettwieser shares his find and asks the photography community with help in figuring out where/when the photos were taken and who the photographer was:
People have already begun suggesting various things on the project's Facebook page. One commenter suggests the photos may show a trip to NYC Eisenhower made in 1956, and that the photo of Eisenhower speaking appears to have been taken at a train station. If you have any theories and/or observations, feel free to leave them in the comments below!