This Restaurant Made Special Plates for Smartphone Food Photos
If you can't help but snap a smartphone photo before eating a meal, there's a restaurant in Israel that has a new concept designed just for you. The Tel Aviv restaurant Catit and Carmel Winery have teamed up for a new project called Foodography. It's a new meal experience that features newly designed plates that help you shoot quality food photos with your smartphone.

The team first brainstormed how they could create dishware that aids in smartphone food photos.
One of the plates they created is called The Limbo. It features a smartphone slot on one end and large curve on the other that functions as a backdrop:
The second is called The 360. It's a plate that holds your camera on one end and has a rotating dish on the other, allowing you to easily capture 360-degree views in short video clips.
A top food photographer is also invited to teach a food photography workshop while the guests eat.
This concept turned out to be a smashing success. After inviting a group of journalists to experience Foodography, the restaurant went on to reach 20% of Israel's population with the news, receiving $400,000 worth of free press from publications around the world. The winery's sales also rose by 13%.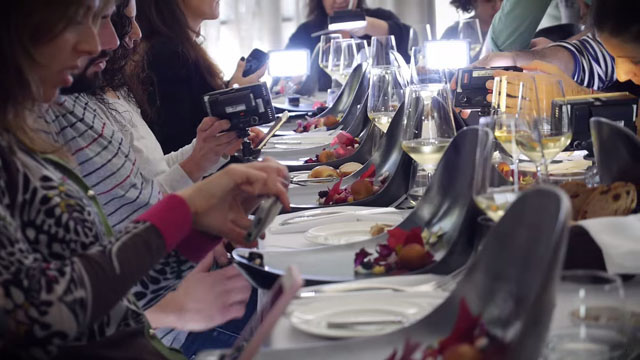 The Foodography experience costs $155 an hour and will be offered at Catit through June 2015. BuzzFeed reports that the winery is also planning to expand the concept to restaurants internationally.
You can find photos snapped during the Foodography experience by searching Instagram for the hashtag #fdgr.