Fotodiox Wooden Grip Turns Your Sony RX100 III into a Poor Man's Hasselblad Stellar
Want a Hasselblad Stellar but don't want to shell out the hefty sum it takes to buy one? Luckily for you, the camera is just a pricey rebrand of the Sony RX100 line, and now Fotodiox has a product just for you. The camera accessory maker has just launched a new wooden hand grip for the RX100 III that looks virtually identical to the handgrip found on the Stellar.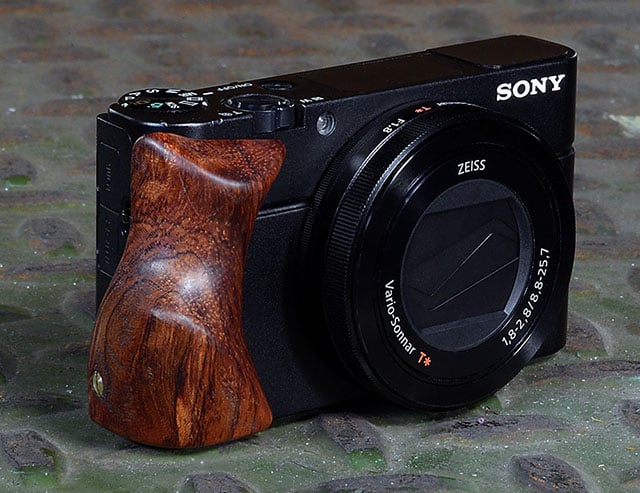 "The smooth carved wood gives added comfort and a better, more secure grip on the camera," says Fotodiox. "The grip easily attaches to the front of the camera body with a just-fit design and maintains the overall sleek, lightweight profile of the RX100-series."
…and it turns your camera into a Hassy Stellar look-alike. Here's what the Hasselblad Stellar looks like:
Here's the new Fotodiox grip on a Sony RX100 III:
The new Fotodiox is made out of solid cherry wood and doesn't prevent access to your camera's battery and memory card. It's installed on the Sony RX100 III with an adhesive that permanently attaches it to your camera. The grip is also usable on the RX100 and RX100 II, but a screw used for extra security won't fit — you'll need to be content with using the adhesive tape only.
You can buy one of these new grips for $60 over in the Fotodiox online store.
Fotodiox Pro Wooden Camera Hand Grip for Sony RX100 III [Fotodiox via DPReview]