Canon 5DS Promo Mugs Poke Fun at the Nikon D800 and Its 'Small' 36MP Sensor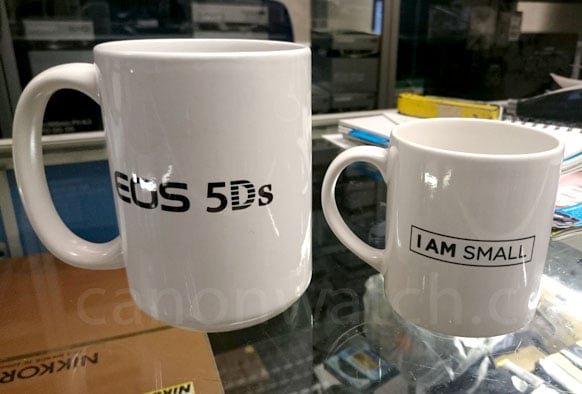 Canon is apparently promoting its new 5DS DSLR with a pair of mugs that poke fun at Nikon. There's a big mug that has EOS 5DS printed across the front, while a smaller companion mug features the text "I AM SMALL" with the design used by Nikon's I AM ad campaigns.

The back of the mugs say "50.6 megapixels" and "36.0 megapixels," respectively. Interestingly enough, the ratio of the size of the lenses appears to be 50.6:36.
The mugs are a reference to the fact that Canon has now introduced super-high-resolution 50.6MP full frame sensors in its 5D line of cameras, which dwarfs the 36MP D800 that Nikon announced three years ago.
The D800 has gotten fantastic marks for its sensor quality, though. It will be interesting to see how the 5DS compares in that area.
(via Canon Watch)
---
Image credits: Photographs courtesy of Canon Watch