Affinity Photo is a New Pro Photoshop Alternative for Mac Users: Get It for Free
Affinity Photo is a new program that was launched today by the England-based software company Serif. It's designed to be a powerful alternative to Adobe Photoshop for professional photographers and retouchers who work on a Mac.
Serif touts the product as "the fastest, smoothest, most precise, professional image editing software for Mac."

Unlike other affordable photo-editing apps out there, which are usually dumbed down offerings with only a subset of Photoshop's usefulness, Affinity Photo is trying to set itself apart by offering the power of Photoshop in a program that's blazing fast and ridiculously affordable.
Performance is "silky-smooth" with instant redraw, Serif says. The company tells Creative Bloq that it's able to provide performance that Adobe can't because it's an entirely new piece of software built specifically for the latest computer technology. "The problem is, [Adobe is] built on 25-year-old architecture, […] which means that they're now struggling to adapt Photoshop to take advantage of modern computing power."
Tools that come in the box include Frequency Separation editing, live blend modes, and inpainting (i.e. Photoshop's Content Aware Fill). Affinity Photo supports 16-bits per channel editing, a full history of reversible edits, ICC color profiling, LAB color, end-to-end CMYK, and Photoshop PSD and 64-bit plug-in support.
Here are some screenshots of the program in action: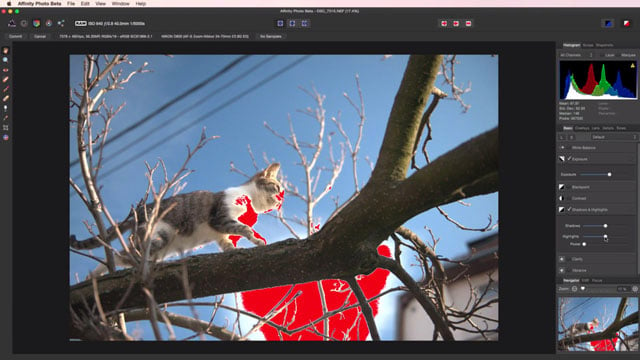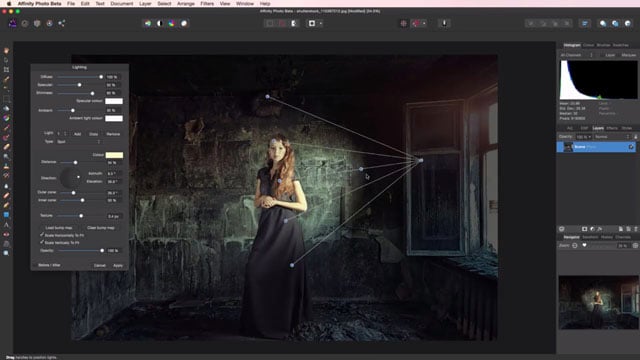 Here's a short promo video that offers a tour of some of the features in Affinity Photo:
If you use a Mac (OS X Lion 10.7.5 and above with an Intel 64 process), you can currently download and use a free beta version of Affinity Photo from the website by signing up. When the program leaves beta testing and officially launches, it will be available through the Mac App Store for $50 with no subscription charges and free updates for two years.
Serif hopes to bring this software to Windows users as well, but there's no timeframe as to when that may happen.