Beautiful Black and White Isle of Skye Time-Lapse Breaks with the Genre's Saturated Status Quo
We've seen and shared some pretty great time-lapses. From last week's unique 'layer lapse,' to the 'flow-motion' hyperlapse of Pyongyang in August, standing out in the genre has become a matter of doing something new and unique… something that will earn you headline words like 'breathtaking' and 'jaw-dropping.'
But the team at Fourth Dimension Video took a very different approach with their latest landscape time-lapse. Shot this last June at Scotland's Isle of Skye, it's done entirely in black and white.
That's right, now oversaturated landscapes filled with impossibly orange sunsets and green fields, both the time-lapse and drone shots in this video are presented in black and white.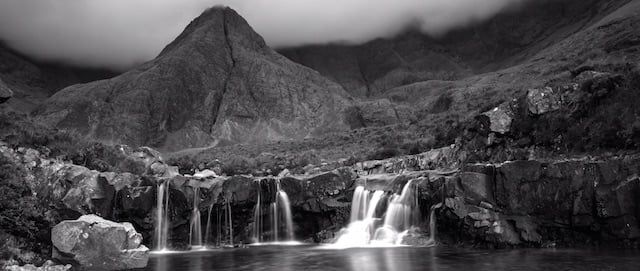 Cloud Island was created in collaboration with the Pathgate Institute for use in an upcoming remake of the Buddhist film 'Life Story of Guru Rinpoche.'
According to the video's description, the final shots will be, "processed in a 3D space so that mountain ranges and sky replacement can be added in order to emulate Tibet and the Himalyan region."
That should make for a very interesting final product, but even if that doesn't intrigue you, the plain black and white time-lapse and quadcopter shots compiled above offer a refreshingly understimulating alternative to the standard time-lapse.