5 Reasons I Love Rooftopping and Will Do It Until The Day I Die
The word "rooftopping" first appeared in a book called "Access All Areas" in 2005 by author Jeff Chapman. In this book Jeff refers to this activity as an offshoot of urban exploration. It's been called skywalking, roofing, and most recently New York Magazine called the people who do this "outlaw Instagrammers."
Call it what you will, people have been going on roofs for decades (and probably even longer) for their own reasons, from Dan Goodwin's stunts to Philippe Petit's rope walk across the World Trade Center towers. Exploring rooftops is nothing new.
Something has changed though, and that's the prevalence of lightweight cameras and people willing to take them wherever they go. All of a sudden there are dozens of groups popping up in major cities around the world, dedicated to rooftopping every major building, bridge and structure around them.
While I cannot speak for all of them, I can tell you why I love rooftoping ,and why I'll do it until the day I die.
1. I love seeing cities from new perspectives
When I arrived in Hong Kong for the first time last year, I already had an idea of what it looked like. I had seen many of the same, tired photos of the skyline, and almost all of them were taken from 2 or 3 places (if you've been to Hong Kong you know where they are).
I felt I needed to find new perspectives to shoot from, as many others have recently in Hong Kong. Each new perspective provides me with a new way to see the city, and for me a new appreciation for those who built, work, live and play in these urban centers.
Because our minds often neglect the familiar, new perspectives and views bring new thoughts and emotions, something that often translates into better photos.
2. I love the community of rooftopping
I have met people all over the world and made life-long connections and lasting friendships thanks to rooftopping.
Roof Toppers have lent me their couch to sleep on before they knew my last name, i've had the opportunity to introduce rooftopping to others who loved it and made it a part of their life, and I've shared moments with people without even speaking the same language.
Don't let the "Outlaw Instagrammer" misconception fool you, rooftoppers are made up of everyday people of varying ages and occupations. I know of doctors, bank managers and journalists who practice this activity.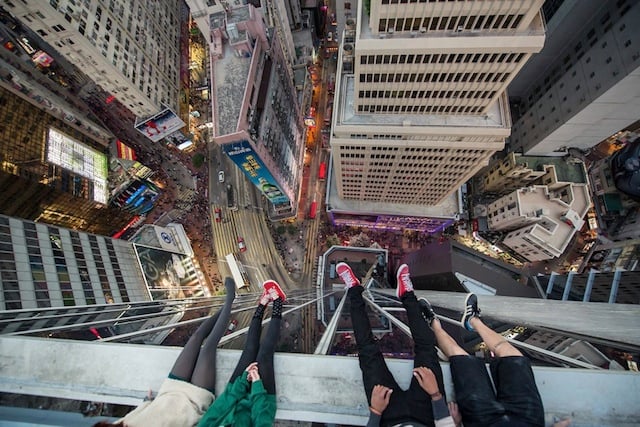 3. There's more to rooftopping than just photos
As much as I love taking, sharing and looking at photos taken from rooftops, it is not the only thing up there. There is a sense of freedom that cannot be described, feeling the city from an unobstructed view is magical and worth all the associated risks.
Mustang wanted, a man known for his antics on top of buildings, used rooftopping (and a paint brush) to send a political message to the Russian government. He expressed his displeasure with the Kremlin by painting the Soviet Star on top of the Kotelnicheskaya Embankment blue and yellow, the National colors of the Ukraine — something that has earned him an international arrest warrant.
4. I love the adventure
It was a hot summer evening in 2006 when my life would be forever altered by an unshut door. I was early for a meeting with a friend, and after parking my car, I noticed a door swinging open at the end of the multi level parking garage.
When I went to look through, it was nothing but a stairway leading up. I knew I was on the top floor of the parking garage but my curiosity got the better of me, so I started walking up. After a couple of floors I realized I was on a construction site and I probably shouldn't be there but I pressed on.
Finally, I saw some fleeting sunlight at the top of the stairs as I walked up the final few steps. Completely out of breath I stepped onto the roof and looked onto the city. I got an immediate jolt of excitement as I walked to the edge and looked down at Dundas Square (Toronto's times square), a strip of sunlight was coming in between the buildings and everything seemed to stop.
As though the city was now putting a show on just for me, everything seemed to be happening in slow motion and I was now sucked into this rhythm of the city, completely in awe.
Of course this thing, whatever it was, would not exit my mind easily and after occupying my thoughts for the rest of the week and walking past that square I knew I had to go back. It felt as though the roof was calling me. This time, as if to prove it was real, I brought along my newly acquired DSLR, a canon rebel XT.
These adventures eventually lead me to take a photo that would change the course of my life a few years later.
5. I'm continuing the spirit of many before me
While rooftopping has gained popularity in recent years, it has been revered by people for decades. I feel as though I am carrying their proverbial torch when I'm up there.
Helen Keller, who is known for her writing as well as being the first deaf/blind person to earn a bachelor of arts degree, had these captivating words to say about standing on top of the Empire State Building in 1932:
Well, I see in the Empire Building something else — passionate skill, arduous and fearless idealism. The tallest building is a victory of imagination. Instead of crouching close to earth like a beast, the spirit of man soars to higher regions, and from this new point of vantage he looks upon the impossible with fortified courage and dreams yet more magnificent enterprises.

Let cynics and supersensitive souls say what they will about American materialism and machine civilization. Beneath the surface are poetry, mysticism and inspiration that the Empire Building somehow symbolizes. In that giant shaft I see a groping toward beauty and spiritual vision. I am one of those who see and yet believe.
Rooftopping is not my entire life, it's part of what I do and what I love about living and traveling into cities. It will be part of my life for as long as I am physically able.
While some have used rooftopping for political gain and others whine about why they don't like it anymore, rooftopping is an expression of art and freedom, and it's here to stay.
---
About the author: Tom Ryaboi is a photographer based in Toronto Canada. His passions include travelling, timelapse photography, and of course rooftopping. You can find him on his website, Facebook, and Instagram.