Polaroid Shows Off Instagram Logo Lookalike 'Socialmatic' Camera at Photokina
The long-awaited Polaroid 'Socialmatic' — a square camera that looks like the Instagram app logo (which was, of course, inspired by a Polaroid camera in the first place) — is one step closer to an official release. And now that Polaroid brought some prototypes with them to Photokina, the unwieldy digital instant camera is starting to look more and more like a potential flop.
In case you've not read our previous coverage of this strange camera, the Socialmatic started its life as a viral concept camera turned crowdfunding campaign that Polaroid eventually bought and decided to make. Now, a year and some change later, the camera is finally taking shape.
With a 14MP front-facing camera and a 2MP selfie cam on the back, the camera can print the photos you take on 2×3-inch ZINK instant photo paper, save them to the 4GB of internal memory (or a microSD card), or share them with the world using WiFi/Bluetooth and the installed Android-based operating system.
On the front of it you'll also find a silly looking LCD, which features a "mood assist AI" that will show you happy faces when you use the camera a lot, sad faces when it's been too long, clouds or sun depending on the local weather and can also display a QR code so you can 'gain followers' more easily.
On the surface, it seems to be exactly what the original viral concept was, but perhaps this concept was never meant to become the real thing.
The reality just seems cumbersome and unwieldy. As Daniel Cooper over at Engadget points out, "I assume that it'd be a more expensive version of those Native Union phones you see hipsters toting around in their jeans — a statement purchase for those who deliberately eschew convenience for cool."
To make matters worse, whatever viral momentum the camera might have had if Polaroid had pushed it out soon after the Socialmatic online crazy has faded, and the camera is still not ready for consumers. Originally scheduled for a Fall 2014 release, Polaroid has pushed back the date to early 2015.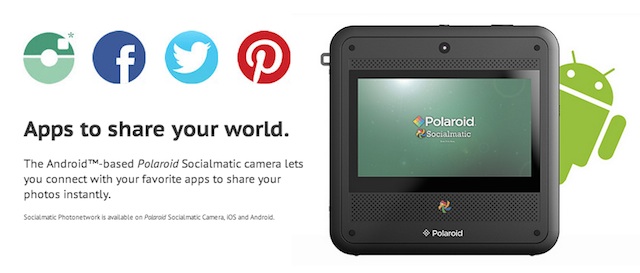 Of course, we won't know how successful the strange instant camera will be until it actually hits stores, so keep an eye out and we'll let you know when it arrives. For now, just expect it sometime early next year and be ready to drop 300 Euro (about $390 USD) if you're interested in buying it.
(via Engadget)