Polaroid's Instagram Logo Look-a-Like Camera, the Socialmatic, Gets an Official Release Date
After three years of teasing and a handful of tentative release dates that have come and gone, the Polaroid Socialmatic instant printing digital camera officially has a release date. As in, an actual day… not just a month or quarter.
Starting January 1st, 2015, the blown up Instagram logo will be ready for the world to hold, see, shoot and share. Similar in almost every regard to the concept first shown off years ago, the specs are slightly different, fortunately for the better.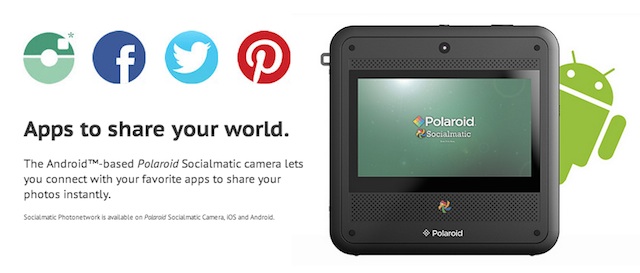 The final specs for the camera include a 14-megapixel main camera, a 2-megapixel user-facing camera, 4GB of internal memory (expandable up to 32GB), a 4.5-inch LCD touchscreen, a rechargeable lithium-ion battery and social sharing using its built-in GPS, WiFi and Bluetooth connectivity.
Interestingly enough, the Socialmatic camera will run a full-fledge Android operating system, giving you the ability to download custom apps and even browse the web. As for the physical instant-gratification, the built-in printer will use Polaroid's proprietary ZINK (Zero Ink) printing technology to spit out IRL versions of your digital snaps.
As fun and playful as this product might seem, the price tag is anything but. At $300 according to its Amazon product page, the Polaroid Socialmatic is on the high end for what is bound to be something of a niche product.
(via SLR Lounge)