Kickstarter Brings Interchangeable Lenses to the Raspberry Pi Camera with Fun DIY Kit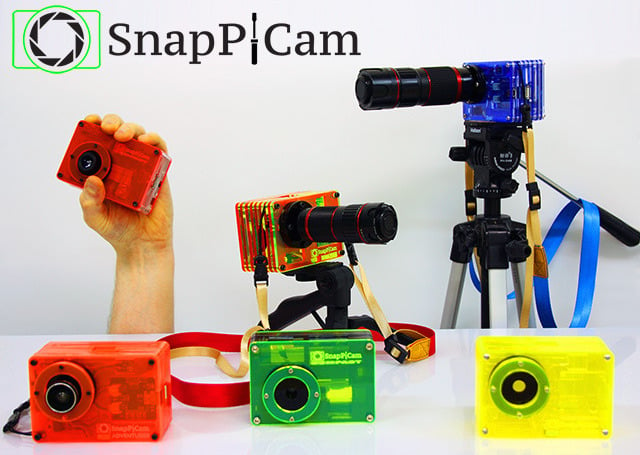 The Raspberry Pi Camera module is a favorite of photography tinkerers. We've seen it used to create everything from GIF cameras to a balloon-powered, aerial picture-taking replica of the house from the Pixar movie UP. But through all this, one limitation has stayed true for the Pi camera module: you can't swap out lenses.
Well, no more. A new Kickstarter campaign is bringing interchangeable lenses and much more to the Raspberry Pi computer board/camera module in the form of a fun DIY camera kits.
Called the SnapPiCam, creator Gregory L Holloway initially created the camera as part of an Instructables competition that he ended up winning. But the popularity of the camera gave Holloway an idea, why not turn this into a fun DIY Digital Camera you could put together in a weekend?
Thus was born SnapPiCam in its current iteration… or rather four iterations. Depending on your needs and budget, you can choose from the SnapPiCam Compact, SnapPiCam Adventurer, SnapPiCam MegaZoom, and SnapPiCam MegaZoom Plus kits.
The Compact is the cheapest. Costing only £100 (~$167 USD), it comes with all of the basic parts (Pi Board, Camera, Battery, etc.) and instructions, as well as your choice of 0.67X wide macro or a 180-degree fish-eye lens.
Stepping up to the Adventure kit for £150 (~$251 USD) will nab you a 2.8-inch LCD with touchscreen and tactile buttons, tripod mount, battery gauge, and more powerful charger.
Beyond that your kits will include an anodized aluminum lens mount for either the MegaZoom or MegaZoom+ lenses, which offer 4x-12x and 6x-18x optical zoom for £200 (~$335 USD) and £225 (~$377 USD), respectively.
All of the kits are compatible with a variety of magnetically attachable lenses.
As Mike Tompkins over at Imaging Resource points out, you can definitely get yourself higher-quality camera for cheaper, but that's not really the point of SnapPiCam. This is for the tinkerers who want to build something cool and functional this weekend.
If you're one of those people, you can learn more about the SnapPiCam or put down the cash for a kit of your own by heading over to the Kickstarter page here.