Holding Pattern: Satellite Images Reveal the Intricately Patterned World of Airports
Airports are a common source of creative and interesting imagery. From time-lapses of the comings and goings to composites that pack hours worth of departures into a single image, the sheer scope and complexity of airports fascinates many creatives.
One such creative is Art Director Lauren O'Neill, whose photo series/Tumblog Holding Pattern reveals the intricacies of airports from above using Google Earth satellite imagery.
The images are the result of O'Neill's life-long fascination with airports. "There's something about the comings + goings," she writes by way of description. "The organization + operation … ultimately the systems of design at play … that's so intriguing to me."
During layovers at airports, O'Neill says she would often find herself staring out at the tarmac and wondering what it would look like from above. It was only a matter of time before she sought a concrete answer to that question:
With a creative block on a project, I took to Google mapping airports and was enamored by the beautiful satellite shots on my screen. Since then, wanderlust has often inspired me to get lost in the satellite imagery of various destinations even when I'm glued to my desk.
Here are just a few of the images she captured and cropped during her Google Earth explorations: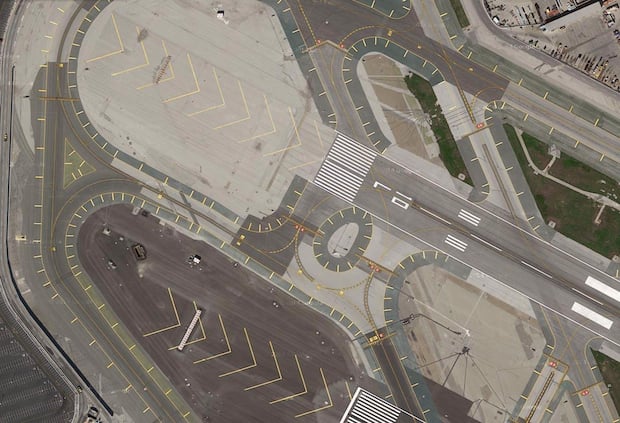 To see the rest of this series, check out the Holding Pattern Tumblog. And if you'd like to find out more about O'Neill herself, you can find a bio and links to all of her work over on her website.
(via Sploid)
---
Image credits: Images created by Lauren O'Neill via Google Earth