9 Amazing Body Painting Photographs by Trina Merry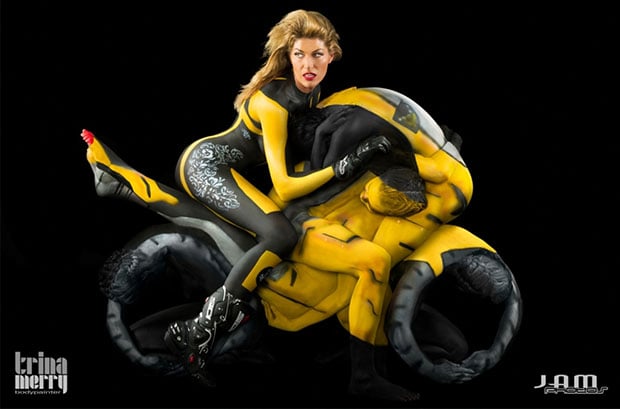 Trina Merry is a bodypainting artist based in San Francisco. There's a good chance you've seen her work before, as a number of her projects have enjoyed widespread viral success on the Web.
Her "Human Motorcycle Project" is a series of photographs showing motorcycles created entirely out of painted human bodies.

The images were created to promote the International Motorcycle Roadshow tour, and featured three bikes: a sport bike, a dirt bike, and a cruiser:
By carefully painting and positioning the models, and from shooting the scene from just the right angle, Merry was able to create something fresh with the already-popular medium of bodypainting photography.
Here's a behind-the-scenes look at how the motorcycles were created:
While working under body painter Craig Tracy (her teacher and mentor), Merry also helped to create photos of the Fiat 500 out of bodies:
Here's a behind-the-scenes vid for that series, which appeared in ESPN's 2013 "Bodies Issue":
Merry sometimes captures the final photographs herself, and sometimes works with photographers to turn the visions into reality. In each case, she works closely with the camera to ensure that her painting matches the perspectives of the photographs.
"I love the double-take people do as they look at my work," she writes.
Other photographs in her portfolio include a tree on a human canvas, a tribute to Jackson Pollock, and a skull tribute to Salvador Dali:
This is her most recent creation, showing a worshipper in a temple that's being reflected on water: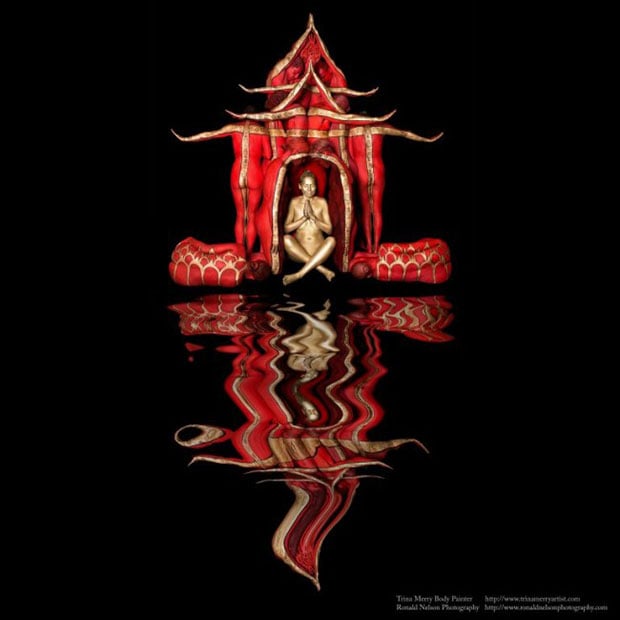 It was actually created with the help of seventeen carefully-painted models:
You can find more of Merry's work over in her online portfolio.
---
Image credits: Photographs used with the permission of Trina Merry