The 2014 Boston Marathon: A Year of Healing
Editor's Note: This is the second of two articles written by Mr. Hoenk about the Boston Marathon. The first was written a week after he photographed the 2013 Marathon; in it he details the difficulty he had dealing with the situation, and shares some photos from that day. It is a much more difficult read, and shouldn't be taken on by the faint of heart. You can find the first article here.
This second article is uplifting. It shows how far he has come since then, and how this marathon was such a healing experience for everybody involved.
---
What a beautiful day for a marathon! The sun was shining, the birds were singing and there was an energy in the city of Boston that I just can't describe. It's been a long year of healing for myself and all affected by those fateful explosions near the finish line at the marathon last year, but our resilience proved that we can all definitely be called Boston Strong!
With the anniversary of the marathon bombings last week, my emotions started bubbling over again. I've pretty much kept to myself over the past year, dealing with the trauma I experienced when I photographed the immediate aftermath of the second explosion. Looking back, and re-reading the blog post about my experiences during the week following the bombing, I realize how completely traumatized I was by the events that unfolded. It was life changing, and I learned a lot about myself, and my limits, professionally and emotionally. I am not a professional photojournalist, and it has been very surreal seeing my photographs in Time Magazine, and in the Boston Globe, and on The View, and on World News Tonight, and on ESPN, but I took pride in knowing that my photos helped to illustrate the story of that day, and bring awareness to the truth of what happened.
…still a bit overwhelming though.
Time does heal the wounds. I haven't really connected with the people I photographed over the past year. As much as I wanted to see how they were, and to give my support, I decided to keep to myself, knowing that they had the support of the entire city, country, and world behind them. I took comfort in the stories of survival and recovery that I came across, and I knew that if I was ever going to meet these people, then it would happen when it was meant to.
Being able to return to the marathon this year to photograph the runners again was huge for me. It was my therapy, and in a way, my closure. I decided to retrace my steps once again, to follow the same path I took last year toward the finish line with one goal in mind — to photograph happiness! Smiles and laughter were abundant on the racecourse today (amid the painful expressions the last 600 feet of a 26 mile run can cause), and helping hands were everywhere to help fatigued runners make it to the finish line. It was all just amazing! I spent seven hours photographing the runners today and enjoyed every minute of it. The best part of my day though came as I was leaving Boylston Street, when I crossed paths with officer Thomas Barrett, from my Time Magazine cover photo. I did a pretty good job containing my emotions as I finally got to shake the hand of the man who has been in my thoughts more than any other over the last year. We were able to talk for about a half hour and reminisce about that horrible day and how we both reacted. I learned the name of the little boy that he rescued, and that he is fine and his family is on the road to recovery, and it filled my heart with joy! A perfect ending to a perfect day!
I have a lot of photos to share from the day, and I hope you will enjoy viewing them as much as I enjoyed taking them!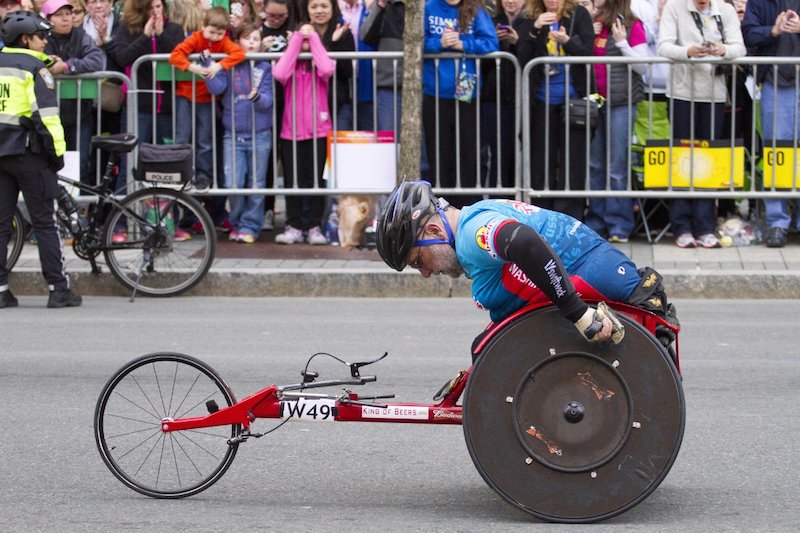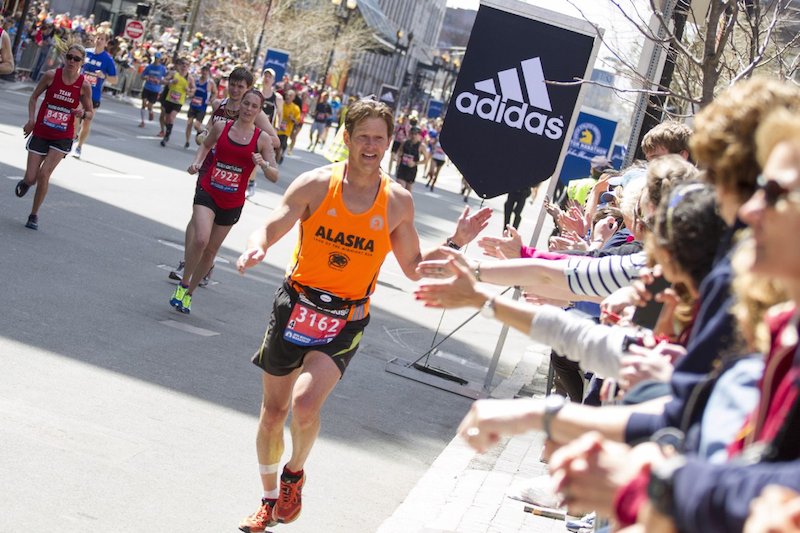 ---
About the author: Bill Hoenk is an award-winning freelance and fine-art photographer based out of Boston MA. When Bill Isn't working on client projects, he enjoys roaming New England, Cape Cod and Nantucket at night, chasing the stars and painting with light! You can see more of his work over on his website. This article originally appeared here.