Boston Marathon Bombing Investigators Using Crowdsourced Photographs
In the aftermath of the tragic Boston Marathon bombing on Monday, investigators are turning to crowdsourced photographs and videos in order to hunt down the perpetrator(s). Authorities are calling for anyone at the marathon that day to send in photographs or videos captured in the area.

Digital cameras are ubiquitous these days, and there were countless cameras with lenses pointed at the locations that were bombed. These include surveillance cameras fixed overhead, professional cameras in the hands of photojournalists, and smartphones in the hands of ordinary spectators.
Just minutes after the attack, photos and videos captured at the scene were already beginning to flood social networks. This collective "view" is what may uncover critical clues. A single photo captured using Instagram or video captured using Vine could be instrumental to solving the case.
Brian Resnick of The Atlantic writes that it's almost certain that "perpetrators of the Boston Marathon blast were caught on camera."
He notes that thousands of spectators at the event were pointing cameras in different directions and at different times, and that the city of Boston uses at least 147 wireless CCTV cameras placed throughout the city. There are also at least 402 cameras throughout the public transportation system, and countless cameras used by private businesses.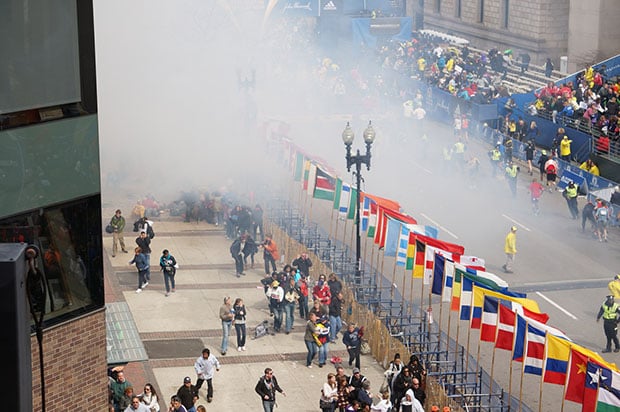 Investigators plan to use the crowdsourced images to construct what Wired calls "a wider mosaic of imagery," which reconstructs what was going on in various locations from different angles and vantage points.
The plan sounds like a perfect application of CrowdOptic, which we wrote about after the East Coast hurricanes last year. It's a visual data mining program that takes mountains of photos and makes it easy to explore them based on time, location, and direction.
Hopefully with the help of the public and some clever photo analysis, the perpetrator(s) of the bombing will be identified, just as the terrorists of the 2005 London bombings were.
---
Image credits: Lead photo illustration based on Marathon_0568 by katielann12, Hereford & Boylston, 1:41, April 15, 2013 by Brian Sawyer, Boston Marathon Bombing by hahatango