iOS App Colorbay Seeks to Redefine Photo Browsing and Discovery
From the designers and developers at MetaRain comes a new universal (meaning a single app for both iPhone and iPad) iOS app, Colorbay. Deemed "a one-stop app to discover and view photos," Colorbay manages to present images from multiple services in an absolutely gorgeous design.
Currently including a photo-sharing/social media line-up consisting of 500px, Instagram, Flickr, Pixter and App.net, the app not only allows you to view all of your accounts in one, unified layout, but also allows you to "like" and "favorite" images as well using a simple double-tap, which is standard across most of the platforms integrated into Colorbay so far anyway. As for adding other services, have no fear, the team is already working it.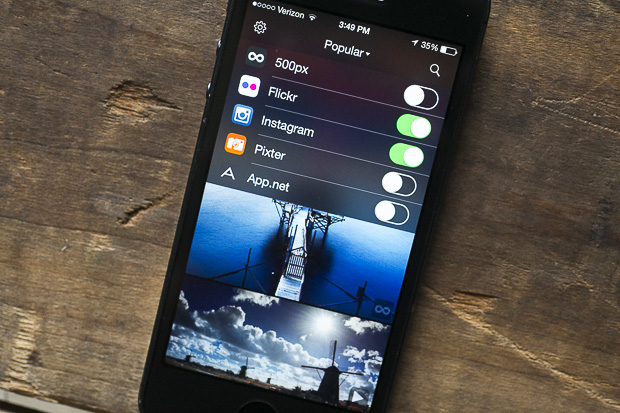 But the star of the 'Colorbay' show isn't so much the services it supports, as it is the design of the app. Displaying images from the services you've connected, Colorbay makes use of every pixel your iOS device has to offer in order to present your images in a modern, dynamic grid, with clean typography and iconography to top it all off.
As you can see from the image above, the layout looks similar to what 500px and Flickr offer in their applications, but what sets Colorbay apart is just how fast and fluid it feels. Built with the latest version of iOS in mind, Colorbay automatically downloads the newest images in the background so that, upon opening the app, there's no waiting for anything to buffer or load. No matter how many images you're scrolling through, there's zero noticeable lag.
And if scrolling isn't your forte, there's also an auto scroll feature that will slowly slide down the specific timeline you're on.
Another one of the draws to Colorbay is its unified approach to all of this. You can instantly see all of your images from the services you're connected to in one timeline, rather than needing to use a separate app for when you're only browsing.
Colorbay also includes the ability to search across all platforms at once, making it very easy to gather inspiration on a specific topic or subject without having to open individual apps or websites and do multiple searches.
A few other notable features are the ability to browse through specific interest groups (that can be customized), the ability to browse through a timeline of old favorites and likes (limited to 300 images in the past), as well as the ability to share images using the iOS share sheet.
Initially, we were just going to write up a short mention about Colorbay, but upon playing around with it, I knew I wanted to go into a bit more detail (not to mention reviewing apps is kind of my métier when it comes to writing). Hopefully you enjoyed the more thorough look at the app.
If you'd like to give it a run-through you can do so by downloading it on the iOS App Store for the whopping price of free. I would assume they'll offer in-app purchases for other features and the ability to add other services in the future, but even as-is, it's a gem. Beautiful design, fluid experience and a good amount of integration to preexisting services make this a solid photo browsing app.
To those of you who will inevitably complain that there's no Android version, save your fingers the effort… The unfortunate trough is that MetaRain had a specific goal in mind with Colorbay, and that goal made iOS the ideal solution from a design and development point of view. Many of the specific features Colorbay uses are already optimized in iOS 7, whereas even with the latest Android OS, a great deal of hacking together of elements and integration would have to take place.