Flickr Updates Its iPhone App, Joins the Retro Filter Party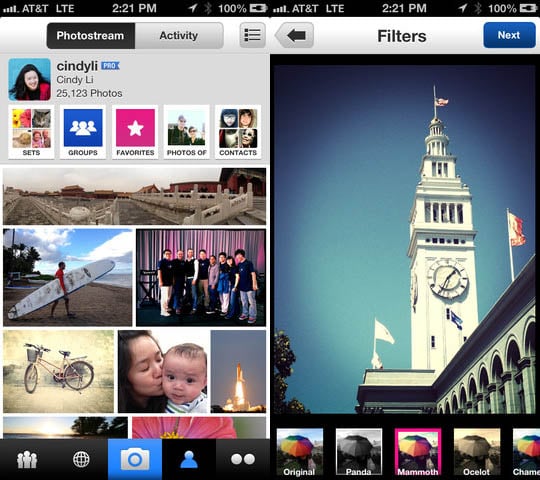 Flickr is the latest photo sharing service to shift its mobile offering to become more like Instagram. Just two days after Twitter launched photo filters for its mobile app, Flickr has updated its official iPhone app with the same feature.
The revamped app features a fancy new photo editor and a number of filters named after animals (e.g. Panda, Mammoth, Ocelot). Its Photostream and Activity view is now very similar to what Instagram pioneered:
In addition to beaming images to Flickr, the app also allows you to broadcast your photos across a number of social networks, including Facebook, Twitter, and Tumblr.
Most of the features offered by the Flickr website are available through the app as well: you can upload original-resolution images, assign them to groups and sets, and tag people.
There's a new contacts view for both keeping up with your friends's images and discovering new photographers to befriend. A new Explore tab allows you to browse each day's most interesting photographs as well as photographs captured near you.
If you're already an early adopter of Twitter's revamped app, you'll likely find many similarities in Flickr's. Both have their photo editing and retro filter features powered by Aviary, a company that offers a powerful mobile editor and Instagram-style filters in a plug-and-play system that more and more companies are adopting.
To get started with Flickr's newly-polish app, you can download the updated version through the iTunes App Store.
---
P.S. Yahoo hasn't forgotten about those of you who use Flickr through your computer. Today it also announced a new navigation bar and a revamped Explore page: