Fashion Photographer Shifts His Focus to Wounded Soldiers
Warning: This post contains strong images of soldiers who have been injured in battle.
---
Photographer David Jay has documented lots of conventional beauty in his work for major fashion houses and magazines. He's also helped the world reconsider what "beauty" means with "The Scar Project", a groundbreaking portrait series that captured young breast cancer survivors going forward with their lives.
Now Jay is tackling perhaps an even greater challenge with "The Unknown Soldier," a powerful new portrait project that captures the post-combat lives of young soldiers seriously injured in Iraq and Afghanistan.
The images are challenging and revealing: showing amputated limbs, jagged scars and severe burns on the outside; and courage, determination and humanity on the inside.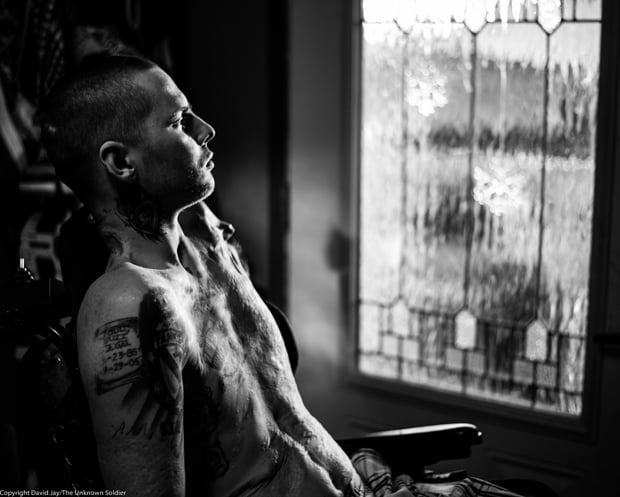 Jay says in his introduction to the project that his purpose is three-fold: "[To] raise public consciousness of the thousands of young and wounded veterans, to honor their lives, their stories and their sacrifice, and to help them see their scars, faces and experiences through a new and ultimately empowering lens."
Jay started the project in April and has done about a dozen sessions so far, traveling to hospital and homes around the country to capture the veterans as they go about their daily lives. He ultimately plans to compile the work into a traveling exhibition and photo book, and a documentary on the project is in the works.
"I am amazed and humbled at every encounter I have had with these men," Jay writes on the project's Facebook page. "It is so important that they are given a platform in which to share their story and continue to receive the honor and recognition they deserve."
---
Image credits: Photographs by David Jay/The Unknown Soldier and used by permission