Photographer Uses Light and Shadows to Frame Human Forms in the City
Want to see some beautiful street photographs that make use of light and shadows? Look no further than the project "Man on Earth" by London-based photographer Rupert Vandervell. Each image in the series shows a single person's figure framed by the shadows and features of a big city.

Some of the people are walking through narrow channels of light caused by giant skyscrapers, while others are sitting in a glowing circle of light found in bus stops at night.
Vandervell says that his goal with the series was to focus on the subjects rather than the city. The pictures are "less about the environment they are taken
in and more about the 'human factor' moving through it," he writes.
The photographs do not reveal much about the locations in which they were shot, as most of the features of the area are obscured by darkness. This is intentional — each location is simply meant to represent "the ever-changing backdrop of the modern city," and the viewer can focus on the "unique visual characteristics of the human form."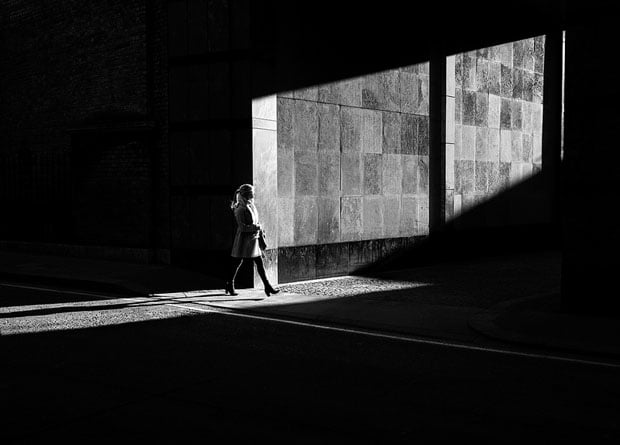 You can find more photographs from this series over on Vandervell's website.
"Man on Earth" by Rupert Vandervell (via HuffPo)
---
P.S. If you liked the idea of this project, you should also check out the work of Ray Metzker.
---
Image credit: Photographs by Rupert Vandervell