Nikon Patent Solves Camera Overheating by Integrating Removable Heat Storage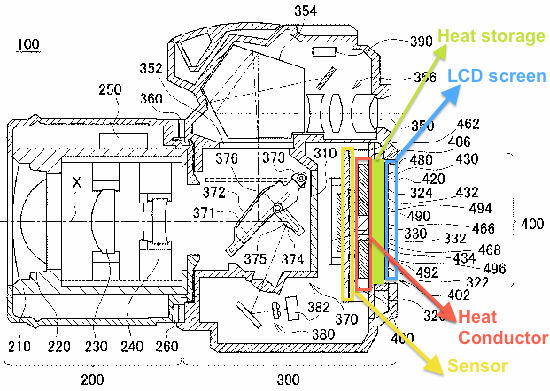 As DSLRs become more and more capable video capture machines, the problem of overheating becomes a more pressing one. With RAW video in particular, where the amount of data being captured is staggering, the sensor needs to be protected if you expect to keep using the camera for any extended amount of time.
Cinema cameras, like Canon's 1D C, have attacked this issue in the past by arranging the internals in such a way as to provide better cooling. But a couple of new Nikon patents take a different approach.

According to
Nikon Rumors
, who translated the patent info found on
Egami
, Nikon has patented removable heat storage. Like a battery or memory card, this would be a cartridge that you could insert into a designated slot in your Nikon where it would absorb the heat from, say, the sensor via the
Peltier Effect
.
One of the illustrations shows a coolant pocket located inside the veri-angle LCD screen. The obvious downside here is that the LCD isn't always clicked in, but when it is, that heat storage material would absorb what the sensor was giving off. And unlike materials currently used in most cameras, you could replace this one when it reached its limit.
You can check out the full Japanese patent here (translated by Google). Unfortunately, there's no information that hints at which specific cameras would receive this treatment, nor how soon (if ever) we'll see the technique implemented.