Pentax Unveils the K-50, K-500, and Q7: Two DSLRs and a Baby Mirrorless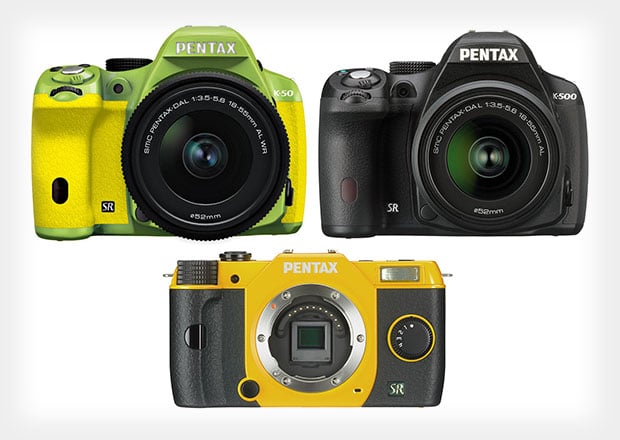 Pentax had a big announcement day today, unleashing three new cameras on the world of photography. The K-50 and K-500 are new mid- and entry-level DSLRs (respectively), and the Q7 is a new mirrorless camera that carries on the pint-sized tradition started by the Pentax Q back in 2011.

Pentax K-50: A Colorful Mid-Level DSLR
The K-50 is a new mid-level DSLR that packs respectable specs and serious color — it's a camera that's available in 120 different color combinations.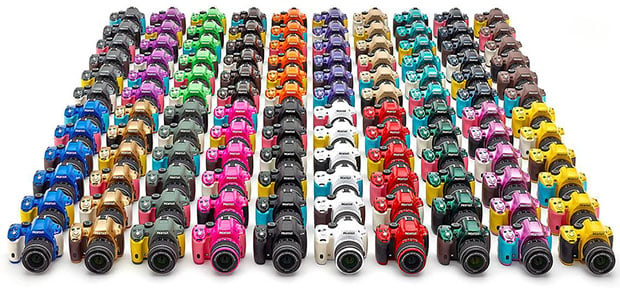 81 weather seals found throughout the camera's surface will give you peace of mind when you take it to environments that aren't friendly to most cameras. The K-50 is weather-resistant and can put up with rain, snow, and sand.
Tucked inside the camera is a 16-megapixel APS-C CMOS sensor that can shoot 6 frames per second at ISOs of up to 51200.
On the back of the camera is a large 3-inch LCD screen with 921K dots of resolution.
Other features include a 100% coverage viewfinder, in-body sensor-shift shake reduction, HD video recording, and 4 optional focusing screens.
The K-50 will start shipping in July 2013 with a price of $700 for the body only or $780–$880 when bundled with a lens or two. You can build one with custom colors over on Pentax's website.
Pentax K-500: A Not-as-Colorful DSLR for Newbies
The new K-500 is the only one of the three new cameras to not feature a bazillion different color combinations. It's a rather straightforward entry-level DSLR that focuses on putting advanced features in the hands of people who are just starting out with DSLR photography.
Like the K-50, it features a 16-megapixel APS-C CMOS sensor with a maximum ISO of 51200. The continuous shooting speed is also the same at 6fps. Oh, and you'll also find the same 100% FOV viewfinder, in-body shake reduction, and snappy autofocus.
Basically, if you step down from the K-50 to the K-500, two of the main features you'll lose are the colors and the weather-sealing. The K-50 also comes with a rechargeable battery, while the K-500 comes with four AA batteries and an option to use the K-50's battery.
The K-500 will also be hitting store shelves in July 2013 with a price of $600 when bundled with an 18-55mm kit lens, or $700 when bundled with an additional 50-200mm.
Pentax Q7: A Tiny Q Camera with a Slightly Bigger Sensor
Pentax remains committed to its Q line of pint-sized mirrorless cameras. In 2011, the Pentax Q became the world's smallest interchangeable lens camera. It was cute to look at, but photographers grumbled about the fact that it only contained a 1/2.3-inch sensor. The Pentax Q10 of 2012 was largely the same camera, and didn't do much to ease the grumbling.
Pentax is attempting to address the sensor size issue with the new Q7. It actually features a slightly larger sensor: you'll find a 1/1.7-inch sensor inside instead of a 1/2.3-inch one. The sensor is a backside-illuminated CMOS sensor with 12.4 megapixels of resolution and a max ISO of 12800. It's capable of capturing 12-bit RAW files in DNG format.
Despite the size change, the camera is still compatible with the same Q-mount system of lenses.
Other features include 19 smart effects, creative modes and filters (e.g. Brilliant Color, Vintage Color, Warm Fade, Bold Monochrome, and Water Color), a convenient customizable Quick Dial on the front of the camera, in-body sensor-shift shake reduction, and a built-in pop-up flash.
The Q7 will start shipping in August 2013 for $500. Like the K-50, it's available in 120 different color combinations.