New Olympus XZ-10 Photos, Upcoming 75-300mm MFT Lens Spotted
A couple of new photographs of the Olympus XZ-10 high-end compact camera have leaked, revealing that the camera will look pretty similar to the current XZ-2.

Here's what the first set of leaked photographs looked like:
After these photos first emerged earlier this week, many people grumbled about the strange flowery design covering the front of the camera.
Now it appears that we were simply looking at some kind of protective wrap, which digicam-info calls a "silicon jacket" (at least, that's what Google Translate tells us).
Here's what the white version of the camera will look like: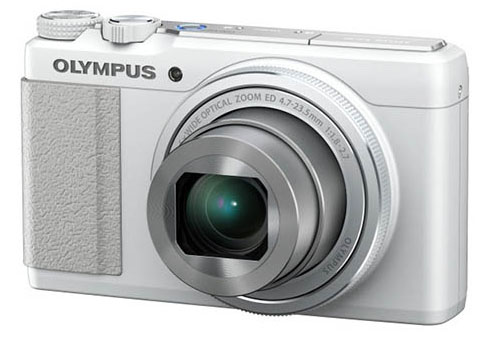 In addition to the new XZ-10, Olympus will also be unveiling a new Micro Four Thirds lens at CP+ next week in Japan. It'll be called the M.ZUIKO DIGITAL ED 75-300mm f/4.8-6.7 II. The to-be-discontinued version of this same lens was originally marketed as "the world's smallest and lightest 600mm super telephoto lens."
It'll only be available in black (its predecessor was also sold in silver):
The lens will reportedly be cheaper than the existing 75-300mm, which can be had for around $900.
These two announcements may be all Olympus has up its sleeve for the CP+ show.
43 Rumors writes that there will be a bigger Micro Four Thirds camera and lens announcement from Olympus come spring (possibly in March).
(via Photo Rumors and 43 Rumors)