Use First, Ask Later: Don't Want to "Play Hardball"? Don't Publish Online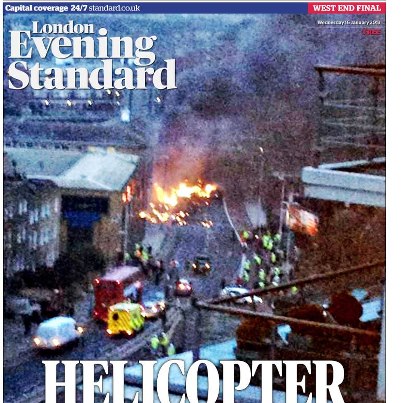 The issue of publishing social media photos of breaking news without their owners' permission is in the news again. After a helicopter crashed in central London last Wednesday, the London Evening Standard found a photo snapped by a witness named Craig Jenner and shared on Twitter. Unable to obtain permission from Jenner prior to its paper going to the press, the Evening Standard went ahead and published the image on its front page.

Other news organizations
quickly pointed out
that the use was likely a clear cut case of copyright infringement.
The case is strikingly similar to the court ruling issued last week in the battle between photojournalist Daniel Morel and a number of news organizations. In that dispute, a judge has ruled that Twitter's terms do not give news agencies the right to publish Twitter photos without permission.
That ruling didn't keep the Evening Standard from grabbing Jenner's photo. The Guardian writes that the Evening Standard has a "use first, ask later" policy for when copyright is difficult or impossible to obtain in time.
An Evening Standard picture desk executive said that in the heat of the moment, the paper could not contact Jenner about its splash, but if he, or anyone else, contacts them regarding payment, they will oblige.

"All the information about the source of the photo is entered into the database and remains in our library. We've always been of the view whoever took the photo owns the copyright, and if they want payment, there is no question they will be paid," said the Evening Standard source.
Intellectual property expert Charles Swan of Swan Turton writes that the way copyright law works means this type of infringement is bound to occur:
The difficulty with this is that eye witness photos will often be "heat of the moment" material. If a newspaper doesn't get permission before publication it will almost always infringe copyright – being willing to negotiate a fee after the event isn't a defence to a legal claim.

In most cases the media will get away with this. Perhaps the tweeter isn't interested in being paid, or the sums involved are too small to make legal action likely. But a policy of publish now, negotiate later cannot be defended from a legal point of view. Copyright isn't just a right to be paid, it's a right to authorise publication.
His advice for photographers who don't want their work used without their permission: unless you're willing to "play hardball," don't freely share the images online:
The lesson for professional photographers is clear. Don't rely on the Morel decision. If you tweet photographs you risk them being published without your permission, and if the photograph is a valuable newsworthy image you will lose out if this happens because your negotiating position will be undermined. Unless that is, like Morel, you are prepared to play hardball.
Basically, the economics don't work in a photographer's favor. If the most likely outcome of publishing a photog's work without permission is having to pay a reasonable amount, the benefits of publishing the images without permission far outweigh the (potential) costs for news organizations.
(via BJP)