Using a Prism for Creative Photo Effects
Have you ever considered adding a prism to your camera bag? Washington DC-based wedding photographer Sam Hurd has done quite a bit of experimentation using an equilateral prism — the kind used in schools to teach properties of light — to add special effects to his photographs. The results are pretty interesting.

Hurd writes,
Many photographers have used things such as iPhone screens or mirrors to create interesting and artistic looking images, but I've found that using a 6-inch triangular prism works best for me because you can twist the prism into creating a curve and bend-like distortion of your surroundings. It takes a little more practice than just holding it up to your camera lens and reflecting stuff. This makes things look much more natural in my opinion. It doesn't scream "cheesy!" "something done in Photoshop!" because, well it isn't done in Photoshop.
Here's what the prism looks like. You can pick one up yourself or about $12 over on Amazon:
Check out these photographs for a taste of what you can achieve with such a simple tool: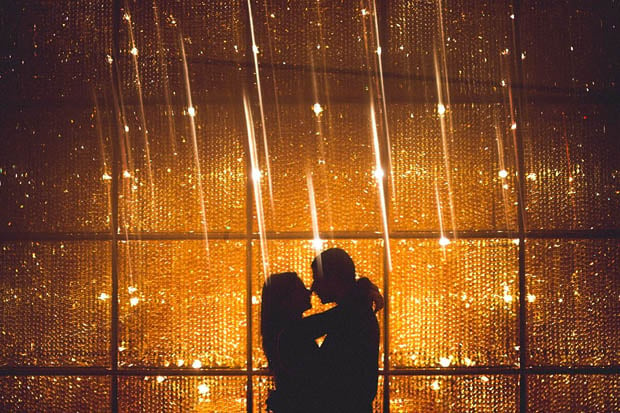 Hurd also shot this live demo of "prisming" to show what the technique looks like through your viewfinder (or on your LCD screen):
The unpredictable nature of the prism allows you to achieve all kinds of different looks depending on angle and situation. If you can't wait to get started, you should be able to find one of these prisms pretty easily at a local shop (try your local craft store). Otherwise, Amazon is always at your fingertips.
Head on over to Hurd's website if you'd like to see more of his prisming photographs.
Prisming: Photography Techniques "Hurding" [Sam Hurd via Gizmodo]
---
Image credits: Photographs by Sam Hurd and used with permission