A Look at Samsung's New Single-Lens 3D Technology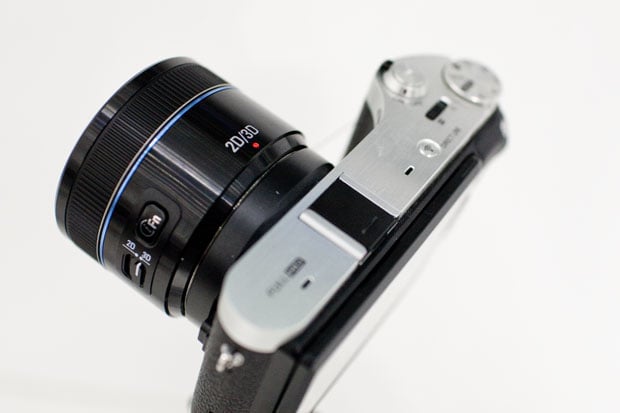 One of Samsung's big reveals at CES 2013 is its new 2D/3D lens, which can be paired with the new NX300 to capture true 3D photographs and video using a single lens and a single sensor. When you're feeling like switching back to 2D, a convenient switch on the side of the lens turns it into an ordinary camera lens.

The technology is actually pretty interesting. The lens contains two shutters on the left and right sides. When in 3D mode, these shutters flap one at a time at a rate of 60 times per second, allowing the camera to capture left- and right-eye views of the scene.
These two views can then be combined into stereoscopic 3D photos or videos.
When the lens is switched into 2D mode, these shutters disappear into the sides of the lens, and the lens behaves as an ordinary 45mm f/1.8 piece of glass.
To make the 3D magic happen, the camera uses special processing to interpret the two incoming streams of images. It's likely that more and more Samsung cameras will offer compatibility in the future, but for now you'll need to stick with the NX300.
The Samsung booth had a demonstration of the 3D in action, with a TV displaying the live view and 3D glasses on hand to enjoy it. It's legit, and completely done through a rather ordinary-looking kit.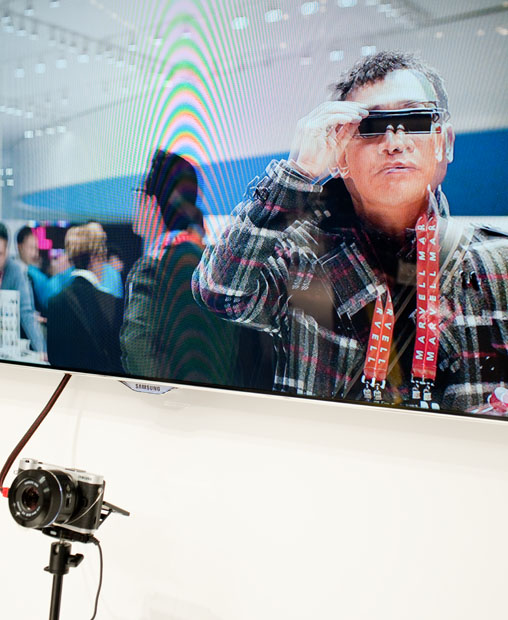 As we reported when the lens was first announced last week, it'll be hitting stores in March 2013 with a price tag of $600.