End of an Era: Canon Officially Adds the 5D Mark II to Its Discontinued List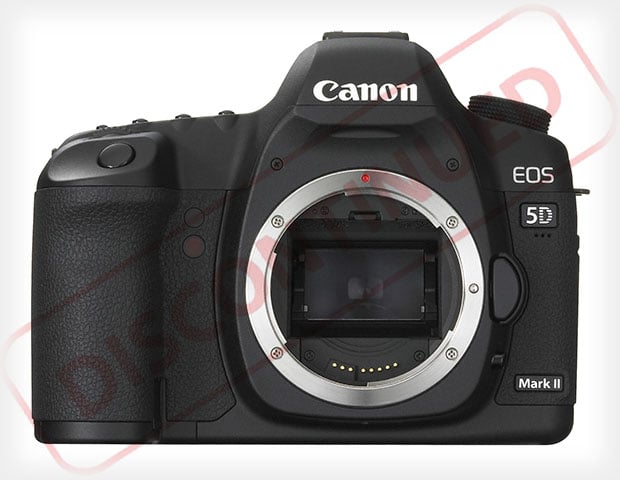 The Canon 5D Mark II's illustrious career is coming to an end. The DSLR, which Canon Rumors calls "Quite possibly the most popular and influential DSLR in history," has been added to Canon's official list of discontinued EOS products over in Japan.

Here's a screenshot of a machine translated version of the page, showing the 5D Mark II listed in the Amateur Model section:
The 5D Mark II shook up the DSLR market when it was announced back in September 2008. The 21.1-megapixel full frame camera was the first in the Canon EOS line to offer video recording capabilities, pioneering the HDSLR movement that has exploded over the past few years.
The Nikon D90, announced one month earlier, was actually the first video-recording-enabled DSLR on the market, but it only captured footage at 720p. The 5D Mark II one-upped the D90 and saw much wider use due to the fact that it was the first DSLR to offer 1080p. Before long, photographers and videographers around the world were buzzing with excitement as the camera saw more and more acceptance as a serious filmmaking camera.
In its early days, we would often report on specific cases on which it was used for Hollywood purposes, whether in a successful indie film, in a big budget Hollywood action flick, or in the season finale of a popular TV show.
These days, it's no longer newsworthy for DSLRs to be used for series movie or television purposes — everyone's doing it.
The 5D Mark II was so popular that Canon took a different route in replacing it. When the 5D Mark III was announced back in March, Canon announced that it would continue producing and selling the Mark II instead of discontinuing it (albeit with a large price cut).
When the Canon 6D was announced in September, it was billed as Canon's most affordable full-frame DSLR. However, consumers found themselves with a dilemma on their hands, as the 5D Mark II actually offered mostly the same features for hundreds of dollars less.
Now, by discontinuing the legendary 5D Mark II, Canon can finally sell the 6D as its official "entry-level" full frame offering.