Beautiful Homemade Polaroid Twin-Lens Reflex Camera Made of Wood
Feast your eyes on this gorgeous twin-lens reflex camera that was designed and built from scratch by photographer Kevin Kadooka, a mechanical engineering student at the University of Portland. It uses a Mamiya-Sekor 105mm f/3.5 Chrome lens and has a Polaroid back for shooting 4.25×3.5-inch instant film, and is crafted out of laser-cut birch plywood.

Here's what Kadooka tells us about making and using the camera:
The (yet unnamed) camera is a spiritual descendant of the Mamiya C-Series TLRs – besides, it takes a lens pair from one of those. The impetus for the project was to make a camera that melded the beauty of medium-format instant film with the unique experience of using a TLR camera. (The latter part of that statement is conjecture actually – I've never used a TLR in my life.) It took about two months of concept sketches, 3D modeling, and toying around with the design before templates were sent off to be laser cut out of aircraft grade birch plywood. A couple of the parts, like the mirror and ground glass, were also custom-made for me, and the lenses and Polaroid back were eBay finds.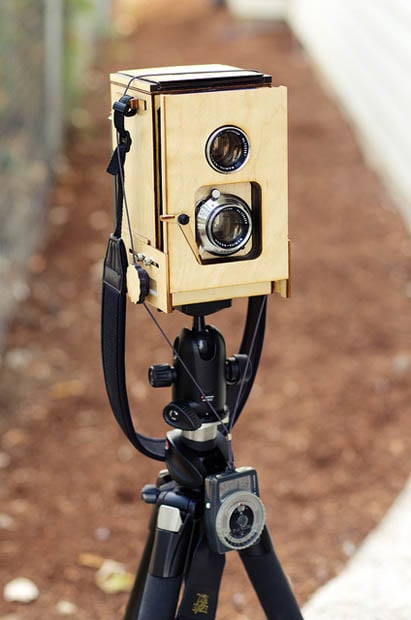 Once had used the completed camera for a bit, Kadooka writes,
After a couple of weeks and two packs of film, I can report that it is freakin' fantastic to use, but mostly because it's so ridiculous. It also garners a lot of attention; I've heard passersby murmur "is that a camera???" The viewfinder is easily usable in most conditions (I had some trouble in the darkness of a restaurant), but the folding hood is kind of a joke (hope to improve on that in a future iteration). Parallax has proven to be a minor problem at close focus (~2ft or so) but is very easy to correct. It's an experience to use, I'll say that [#]

For an instant camera, using it actually takes a bit of patience. Manual metering (luckily there's an app for that!), and focusing on ground glass means spending some time deliberating over each photo – and then waiting for the pull-apart film to develop of course takes one or two agonizing minutes. That's not to say it's all bad of course, it's just a very different experience from using, say, a DSLR.
Here are some photographs he has captured using the Polaroid TLR so far: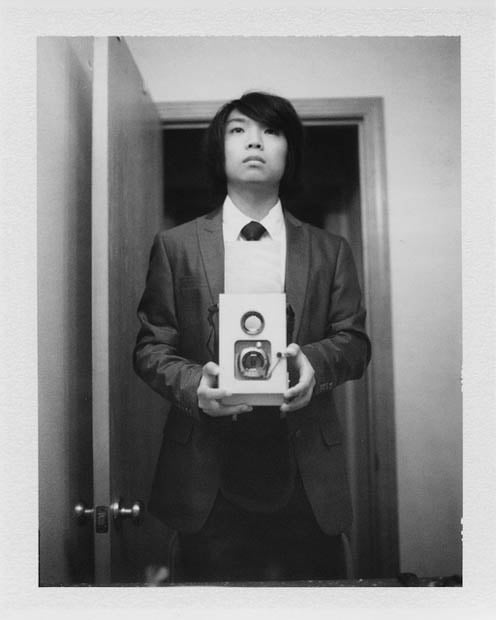 Something tells us that this camera would be massively popular as a Kickstarter-funded project — it could arrive arrive on your doorstep as a build-your-own-camera kit!
You can find more of Kadooka's photographs and camera projects over on his Flickr page.
(via DIYPhotography)
---
Update: Here's a new video that offers a closer look at the camera:
Kadooka tells us that he's strongly considering manufacturing/selling the camera.
---
Image credits: Photographs by Kevin Kadooka and used with permission