Japanese Camera Factories May Be at Risk Amidst Chinese Protests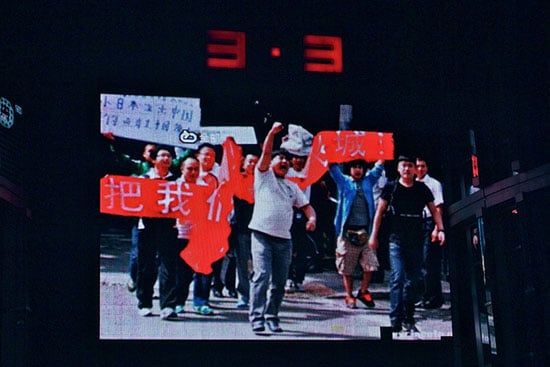 There's a huge wave of anti-Japanese sentiment sweeping across China, with violent protests popping up all over the country in response to the ongoing dispute over islands in the East China Sea. Amidst the public anger, Japanese brands are taking a hit… literally.

CNN reports that Japanese businesses and manufacturing plants have been targeted by protestors, causing large amounts of damage and forcing some of them to close. Among the companies hit hard was Panasonic:
Violence against Japanese companies was seen in Xi'an, Dongguan, Changsha and Guangzhou, according to local media reports. A Panasonic factory was set on fire and a Toyota dealership in Qingdao were damaged on Saturday, and a Jusco department store was ransacked.

[…] Panasonic has suspended work three plants in China until Tuesday, after factories in Qingdao and Suzhou were damaged by protesters, company officials told CNN. Panasonic also halted operations at a factory in Guangdong province until Tuesday as some local employees staged a strike […]
Many of the largest camera manufacturers have plants located in China. The suspension of these plants could mean major disruptions in the availability of cameras, just like last year's natural disasters in Japan and Thailand caused.
---
Update: This is, in fact, affecting the camera industry. Reuters reports that Canon is suspending operations as well (thx DafOwen):
Japanese electronics maker Canon Inc is set to suspend operations at three of its four plants in China on Monday and Tuesday following huge anti-Japanese protests in China, Japanese media reported on Monday.

Canon will halt production lines at its laser printer factory in Guangdong, a digital camera factory in Guangdong, and a copier plant in Jiangsu, Japanese media reported.
---
Image credit: Beijing September 2012 by Remko Tanis