Nokia Lumia 920 Low-Light Performance Pitted Against Competing Smartphones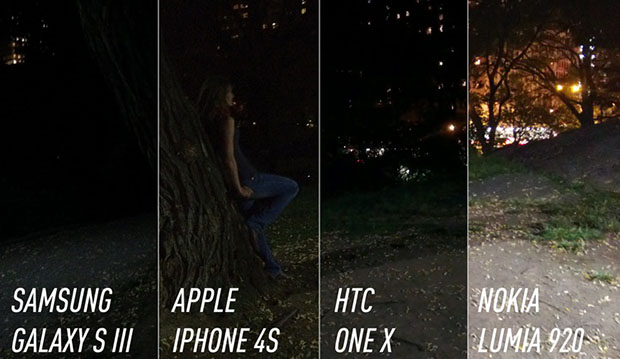 After The Verge broke the story this week about Nokia's dishonest promo video for its PureView camera technology, Nokia went into damage control mode. As its stock took a tumble, the company hired an internal ethics investigation into the matter, and took steps to turn the media's attention back to its revolutionary PureView features rather than the dishonesty seen in the video promoting them.
It also invited The Verge out to Central Park in NYC to do a hands-on test of the Lumia 920 camera, in an effort to show that the camera is worthy of the hype.

After pitting the camera against competing smartphones, including the Samsung Galaxy S III, HTC ONE X, Apple iPhone 4S, and previous Nokia phones (even the 41MP Nokia 808 Pureview), The Verge concludes,
The Lumia 920 takes very good low-light images, the [optical image stabilization] compensates for enough hand shake to take in light to create a photo in situations where you'd expect none are possible. In near darkness, we will say that it took a relatively steady hand to get a shot without camera shake — but that's a very small complaint. While we were getting blur on the 920, we were getting vastly darker and grainier images on the rest.

[…] If we had to pick one complaint about the low-light performance from the Lumia 920's camera, it would be that the resulting image is almost too bright. Nokia could dial it back a bit, tweaking the software to keep the shutter open for a shorter period of time to reduce blur even more.
It looks like the latest PureView advancements may set the bar for what's expected in a phone camera, providing workable images in dark environments in which most people wouldn't even bother pulling out their smartphones.
Head on over to The Verge to read their full report and to see high-res sample photographs shot with various phones during the tests.
We put Nokia's controversial Lumia 920 PureView camera to the test [The Verge]