GoPro Reportedly Planning to Go Public with a $300M+ IPO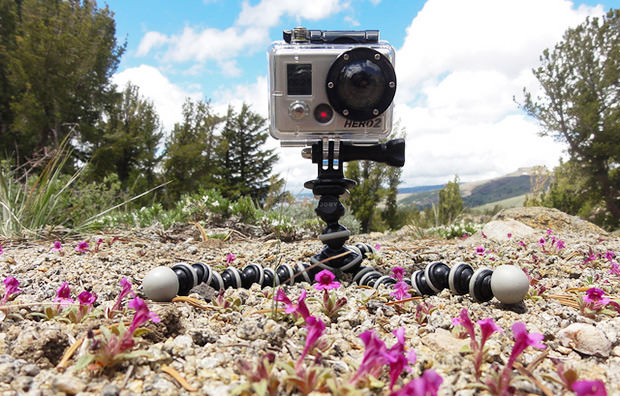 It's not every day that a camera company goes public, but that's what GoPro is reportedly trying to do.
Reuters, which broke the story, reports that the company is planning to raise $300 million to $500 million in an initial public offering sometime in 2013.

Just for comparison, Facebook raised $16 billion when it held its IPO back in May — though
the stock
has been plummeting since then.
Based in Half Moon Bay, California, GoPro is known for its small, wearable, weatherproof, and shockproof cameras that are used by extreme athletes around the world to document their daredevil stunts.
In a 2010 interview with Malakye, founder Nick Woodman recounts the story of how the company started started:
I'd had the idea for a wearable camera kicking around in my head since the late '90s, but I first really started developing the idea back in 2002 while on surf trip in Australia with a couple of friends. We were living out of a Toyota van, putting in about 5,000 miles surfing the East, South and West Coasts. I was spending most of my time in the water, sharing amazing moments and waves with my friends. I was also shooting photos (this was pre-YouTube!) from the beach, but from that distance my shots weren't doing the surf or my friends justice. Some of the most intense and memorable moments in cranking surf were just that, memories. I'd kill for some GoPro footage of that trip! Ironically, that trip is what fired me up to come home and finally start GoPro to create "the invisible camera," a wearable camera so convenient that you forget you've got it on.

At that time, unless you were a pro surfer, there was no one out in the water to capture a photo of you. That's how I came up with the name GoPro. Most surfers, at some point, wish they could "go pro." My friends and I wanted to go pro just so we could get some footage of us surfing; it was that difficult. So I figured at least a few surfers would be down with the concept of a wearable camera. Thankfully, I was half right.
In terms of growth, the young camera company is exploding. Back in January, Inc.com reported on this in a piece titled "The GoPro Army",
In the past two years, GoPro's growth has exploded, and the cameras' uses have spread far beyond the action-sports world. GoPros are being used on dozens of reality-based TV shows. Scientists are sending GoPros into near space and deep underwater. A GoPro was mounted on the rescue pod when the Chilean miners were rescued in 2010. The list goes on—surgeons, oil companies, the U.S. military—and one of the company's challenges is tracking it all in order to support it.

Two years ago, there were 14 employees at headquarters in Half Moon Bay; today, there are 150. The cameras are available in about 10,000 stores—lots of local sports-enthusiast shops but also REI, Best Buy, and Amazon. GoPro's closest competitor in the wearable-camera space, Contour, reported $15 million in revenue for 2010, and Woodman claims GoPro now holds 90 percent of the wearable-cam market, after growing well over 300 percent in 2011. Digital-imaging industry analyst Chris Chute of market research firm IDC estimates GoPro's 2011 revenue at $250 million, on sales of 800,000 cameras worldwide. He calls GoPro "the fastest-growing camera company in the world."

Perhaps even more impressive than the revenue growth is the passion GoPro's users have for its products, as expressed by the flood of GoPro videos spreading across YouTube and Facebook. GoPro's Facebook fan base grew from 50,000 to more than 1.3 million in 2011 alone. To put that in perspective, Contour had 56,000 fans at the end of 2011. Canon USA had 135,000, and Panasonic USA had 134,000. But it's not the size of its Facebook fan base that sets GoPro apart; it's the level of engagement of those fans.
It definitely sounds like the time is right for the company to go public. Let's just hope it doesn't go the way of Facebook when it actually does.
---
Image credit: Using a GoPro camera to collect data on pollinators by lrosengreen